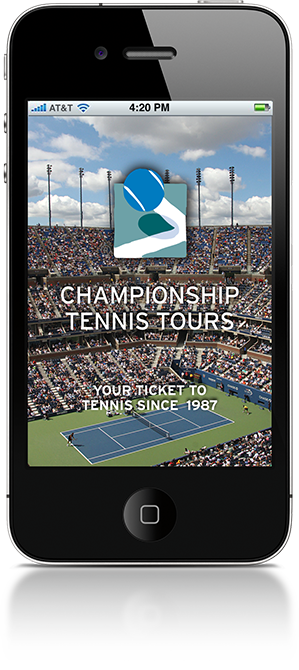 Book tickets & complete packages to the world's top tournaments, even when you're on the move!
By nature, tennis fans are constantly on the go, and located all over the world. Championship Tennis Tours (CTT) knows this, and has designed our Mobile site (m.tennistours.com) and our native apps to serve up the very best possible user experience that you've come to expect on our Desktop version.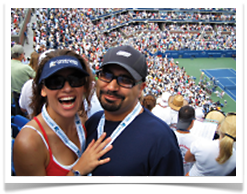 Purchase tickets for all the top tournaments
Along with the four Grand Slams, we offer tickets to all the top ATP and WTA Events throughout the calendar year.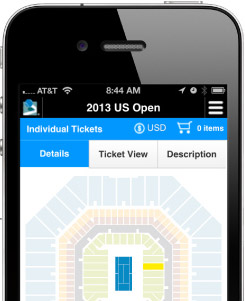 Advanced Interactive Ticketing
See exactly where your tickets are located on the on the Center Court Seating Chart
For all the top events, like the US Open, French Open, BNP Paribas Open, and Miami Open, you're able to book tickets based on your preferred level and perspective onto the court, for example Courtside "Behind-the-Server." Or, you can book specific tickets in our inventory with exact Section and Row numbers. You'll also be able to see an approximate Ticket View from the seat, and seating description.

Photo Albums
View HD quality albums from each tournament with killer photos of the courts, players, and hotels where we provide accommodations for our packages.

Secure Transactions
Use your credit card directly from your finger tips with confidence as our mobile sites have secure SSL Encryption to protect your data.

Customer Service
We are available to you wherever you may be. Since 1987, CTT stands heads and shoulders above the competition in the level of prompt, professional, knowledgeable service we offer.

International Support
Select text in your preferred language and prices in your local currency.

Complete Packages
Book all of our complete packages to the top tournaments.

My CTT
Manage your orders in the My CTT area.