Miami Open
18 mar – 31 mar, 2024 | Miami, FL
iNota: Seguro y confiable desde 1987.
Los precios pueden ser menos o más caros que el valor nominal.
Todas los boletos son garantizados 100% auténticos.
Ver Fotos
Reserve ahora sus entradas para el Miami Open celebrado en el Estadio Hard Rock a lado de Miami. Nuestra entradas de Miami Open se encuentran en las mejores ubicaciones sobre el Court Centale en todos niveles. La mayoría de los entradas se encuentran en el lado oeste de el estadio que recibe la protección de la sombra considerable durante las horas más calurosas del día.
Mas detalles y preguntas frecuentes. . .
Center Court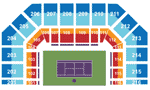 Guía estadio
X
¿Cuántas entradas quieres?
Cargando boletos, por favor espere...
No. Entradas:

Tipo Entradas:

Timeframe:

Rango de precios:

Qty
Stadium View (Approximate View)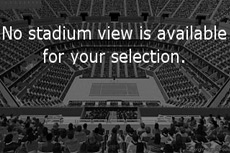 Stadium View (Approximate View)
Description


Sections:
Nivel Courtside
El nivel Courtside ofrece la oportunidad de acercarse lo más posible a los jugadores, ya que es el primer nivel justo fuera de la cancha. Las secciones del lado oeste tienden a ir por una prima como la silla del árbitro se encuentra en el lado este de la corte que puede representar un poco de un obstáculo para ciertas secciones en el lado este y durante la sesión de día el sol está brillando en general en su cara.

Nivel 100
Los asientos de 100 niveles ofrecen un gran valor y están situados justo por encima del nivel Courtside.
Nivel 200
Los 200 asientos de nivel están situados en el lado sur de la cancha entre las líneas de base que ofrecen mucha sombra..


Miami Open FAQ's

Q. How many matches are played in the Stadium during a given session?

Traditionally during the Day Session, there are four matches played in the stadium. During the evening, there are typically two matches played in the stadium. This is subject to both weather and schedule changes. Ultimately, the number of matches is determined by the Referee's Office and is subject to change at any time.

Q. On the Center Court stadium, what are the best sections or areas to insure that I'm in the shade?

Any sections on the south, west, and east sides of the stadium will offer maximum shade.

Q. Where is the chair umpire located?

Even with the net line on the south side of the court.

Q. When will my tickets be delivered?

Tickets are generally delivered one week before your first day of attendance. Actual delivery times vary from event to event depending on many factors including when tickets are physically allocated by the tournament.

Q. What if my tickets are lost or stolen?

When you receive your tickets, keep them in a safe place. Unfortunately, tickets cannot be replaced if they are lost, stolen, or damaged. Please note that direct sunlight or heat can damage some tickets. 

Q. What is the address of the venue?

Hard Rock Stadium
347 Don Shula Dr, Miami Gardens

Q. Will the tickets I order be together?

Yes. All ticket order of two tickets will be together. For orders of 3 or more tickets we do our best to get all the tickets together, but it's not guaranteed. We will make sure to have at least all the tickets as pairs.

Q. When tickets are listed as a "General" ticket for a particular level, what does that mean?

When a ticket is listed as a "General" ticket, such as "100 level - General" this simply means that your tickets are guaranteed to be located in a section within the 100 evel. Even though it's listed as "General", all tickets are reserved. You will only know the actual seats (section, row, and seat number) once the tickets are delivered.

Q. I have tickets for the Day Session, but not for the Evening, will I have access to the Evening Sessions matches?

Once the last Day Session match on Stadium Court is complete, guests will be asked to leave the Stadium Court so it can be cleaned for the Evening Session ticket holders. Guests with Day Session tickets will have the opportunity to stay on the grounds to watch matches on the outer courts but will not have access to the Evening Session matches taking place in the Stadium Court. Day Session guests wanting to stay and watch the matches in the Stadium Court during the Evening Session may purchase tickets at our Advance Ticket Center (located at Guest Services) based on availability.

Q. I have Evening Session tickets…what time can I enter the Grounds and when will I have access to the Stadium matches?

Guests with Evening Session tickets have access to the Grounds at 5:00 pm, but will not have access to the Stadium until the scheduled Day Session matches are completed. If Day Session matches happen to run late due to lengthy matches or weather delays, Evening Session guests will not have access to the Stadium until the last Day Session match is finished…but are welcome to watch matches taking place on the outer courts.

Q. I want to purchase tickets to watch my favorite player play, when is he or she scheduled?

The Miami Open is a single-elimination tennis tournament. Due to this fact, the draw for each day will not be announced until the night before around 7pm EST and will be posted on the Miami Open website. Other options would include checking local news outlets such as the Miami Herald newspaper. Depending on when you place your order, Stadium Court tickets may or may not be available. If the Stadium Court is sold out, grounds passes will be made available. Please note that a grounds pass does not provide you access to see matches taking place inside the Stadium Court.


Q. What is the seating capacity of the Stadium Court?

There are 14,000 seats. Compared to the Arthur Ashe Stadium at the U.S. Open which has 23000 seats.
The Hard Rock Stadium is designed for intimacy, luxury and an improved fan experience
State-of-the-art shade canopy and four HD video boards
30 permanent show and practice courts
Luxury seating and premier hospitality offerings unlike anything in tennis
Expedited parking experience directly adjacent to the tennis complex

Q. How many seats will the Grandstand court have?

The Grandstand at the new venue will be a permanent structure with a capacity of 5,000, a size larger then the Grandstand at our current venue.

Q. Will there be more shade structures outside?

The new venue will feature a picturesque garden plaza with comfortable shaded sitting areas, live tennis action displayed on an oversized video board, and a wide variety of culinary offerings to enjoy.

Q. How far is it from Downtown Miami/Key Biscayne/South Miami area?

Depending on where you are departing from and the time of day you are planning on attending the drive times should be similar to the drive time to the current venue.  The parking will be much better for everyone as there will be a lot more parking options a lot closer to site.  Everyone will enjoy an upgraded parking experience.

Q. Where will parking be located? 

The parking will be located directly adjacent to the stadium, within an a few minutes walking distance to the primary entrance to the tournament.

Q. Will there be valet parking?

Valet parking may be available with certain premium ticket and hospitality packages.

Q. How many courts will there be? 

On-site courts will increase from 21 to 30, including 18 practice courts instead of nine at our current venue.

Q. Will the outer courts be permanent? 

Yes, the tennis center and the 29 courts will all  be permanent

Q. How many seats will the Stadium Court have? 

13,800 is the seating capacity inside the stadium, similar to our current stadium on Key Biscayne.

Q. How many seats will the Grandstand court have?
The Grandstand at the new venue will be a permanent structure with a capacity of 5,000, a size larger then the Grandstand at our current venue.

.
When can I expect to receive my Miami Open tickets?

Tickets are scheduled to begin being distributed from our office in Scottsdale around the beginning of March with tickets for the first week of the tournament being sent out first followed by second week orders. If you still haven't received your tickets within one week of your first day of attendance at the tournament, feel free to contact us. Otherwise, please rest assured that your ticket order is being processed normally. If this doesn't work with your travel plans, we can arrange to have your tickets shipped directly to your hotel in the Miami area.

Desde 1987, hemos tenido una sola misión, para que sea lo más fácil posible para los aficionados de todo mundo a asistir a los torneos de tenis más buscados. Manejamos solamente el tenis y tiene una amplia experiencia y conocimiento de los torneos que de servicio. Usted puede confiar en nosotros para cuidar de todos los detalles, con un nivel de servicio al cliente que le hará un cliente leal en los próximos años.

Mike Bernstein
Championship Tennis Tours