Client Testimonials
Championship Tennis Tours serves thousands of tennis fans each year. Here are some of the real comments we receive from our satisfied clients!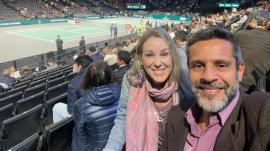 "A Wonderful Experience"
We enjoyed our time at the Rolex Paris Masters. Paris and incredible tennis. Thank you for everything!
- ALESSANDRA from Sao Paolo, Brazil
Rolex Paris Masters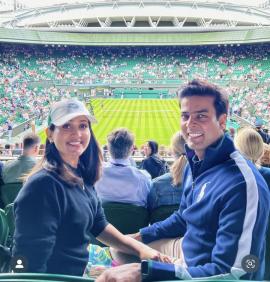 "Best Time Ever! "
We had the best time ever! Thanks so much for all your help and the Oyster cards. We all agreed that court one was the best…the seats were wonderful! An extra match was added and we closed the place down. It was better than we could have expected. Thanks very much and take care!
- Kay Tyler from Austin, TX
Wimbledon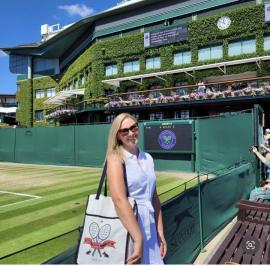 "Wimbledon, Amazing!!!"
Hi Mike, Our day at Wimbledon was amazing, And what a final it was! Fireworks as everyone expected. Our experience in SW19 will last a lifetime! The staff in the Debenture Lounge area was lovely and Centre Court is such a magic place! My wife absolutely loved it. Thank you very much for the great support and the quick reply all the time, very much appreciated! All the best, David
- David and Anne Jost from Cape Town, South Africa
Wimbledon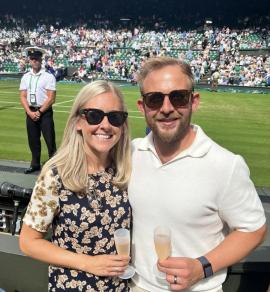 "Thank you!!!!"
Theatre fabulous!!! The hotel was absolutely lovely on a quiet street, conveniently located to the tube line and adjacent authentic pubs! The Debenture experience is even better than we imagined. We are so happy! Thank you, Mike, for making it possible for us!! Debbie & Ralph
- Debbie Slayton from Chicago, USA
Wimbledon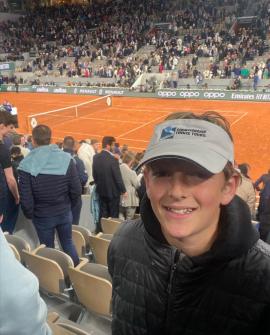 "A TENNIS EXPERIENCE NOT TO BE MISSED"
MIke, thank you so much. If you've ever considered going to the French Open, just do it. It's an amazing experience. We brought our whole family and had the most amazing night watching two of the greatest players of all-time battle it out. The tickets we got were unfortunately not able to be all 4 together, but we had tickets in the CAT Or in rows 1 and 4, two pairs. We'll be back again. Merci and a bientot! Judah
- Judah Gersh from Whitefish Montana
French Open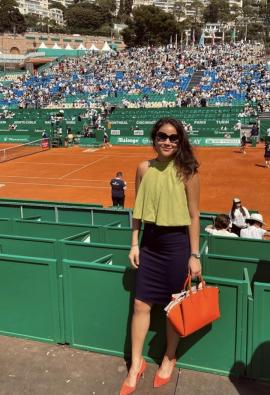 "We had an amazing time!"
The tickets were perfect and we had an amazing time. Thank you!
- Evgenia Terzaki from Athens, Greece
Rolex Monte-Carlo Masters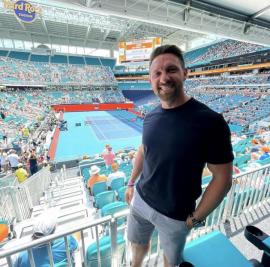 "Thanks for the extra attention"
Hey Mike, it's your friend Tom from Massachusetts. The seats were unbelievable. Closest we've ever been to a court! Great day. Thanks for all the attention and time you gave me. Tom
- Tom Davoren from Boston, Massachusetts
Miami Open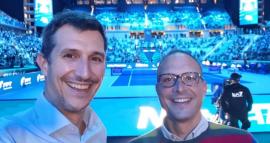 "Fantastic Seats - Well Done"
Hey Guys. Wanted to thank you for the phenomenal tickets you got us for the ATP Finals. We hoped to have seats behind the server and that's exactly what you guys delivered. Zvevrev beating Djokovic was not what we were hoping for, but that's sports! Thanks again, hope to use you guys for the US Open next year. Paolo
- Paolo from Biella, Italy
Nitto ATP Finals Turin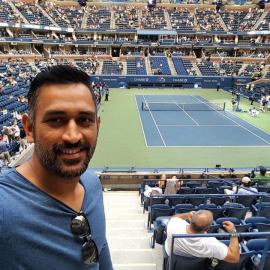 "Above and Beyond Service"
You've been nothing short of awesome. I really appreciate you, Mike, the seats are as you said all in the shade and 5 together..... We thank you so much for your assistance. Samson
- Samson from New Jersey, USA
US Open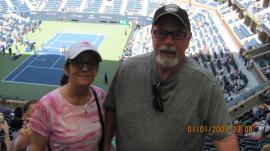 "Amazing time in NYC!"
Hello Chris: Well we made it to the W hotel. We went to two Open tennis match"s. It was great, We saw Federer, Serena, Wawrinka, Goffin etc. Overjoyed! The 911 experience was well worth the price of admission and so was seeing the Statue of Liberty. We also went and seen To Kill A Mockingbird, starring Jeff Daniels off-Broadway. Hands down the best stage play I have ever seen. We even went to Central Park and saw where John and Yoko Lived. Also the memorial. Thanks for all the help, I was a little stressed. It was one of the best trips I have been on. Jeff
- Jeff N. from West Sacramento, California
US Open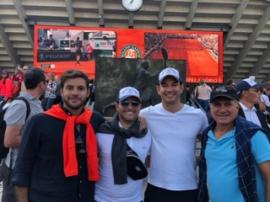 "Roland Garros 2019 Group - Huge Thanks!"
Dear Mike and Chris, I just wanted to send you a very huge thank you email for the tickets provided for the ROLAND GARROS 2019. We were a HUGE group, all coming from Ecuador, and the number of tickets we were able to purchase through you guys, was something amazing. Not even my uncle, who is the president of the tennis federation of my country, was able to get me these tickets. Also, 8 of us accomplished one of our dreams, seeing Federer and Nadal on a semifinal. I have included videos also of Roger and Rafa entering the stadium and the match point. Also, walking next to me, I had a nice chat and a selfie with Diego "el peque� Schwartzman, who was leaving the court after winning the doubles 1/8 finals. Hope you enjoy the pictures. And 1000x thanks again! We hope to purchase more tickets through you in the future. Best, Freddy
- Freddy Juez from Quito Ecuador
French Open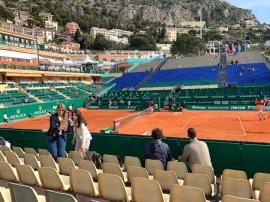 "Best seats in the house!"
View from our seats. Doesn't get any better. Monte Carlo done right. We're grateful!....Thanks...Susan
- Susan Weinstein from Israel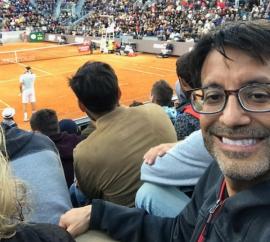 "Incredible time in Rome!"
Chris, We had a great time at the tournament yesterday. We saw Fed, Nadal, and Djokovic play in one day! The hotel is really nice and close to everything! That was my third CTT trip and we've really enjoyed all of them. The Segway tour of Rome was one of my favorite memories from our trip. We also saw the Nadal-Tsitsipas match and it was also great! Our next trip will likely be to the French Open. Thanks again! John Malanga
- John from Texas, USA
Italian Open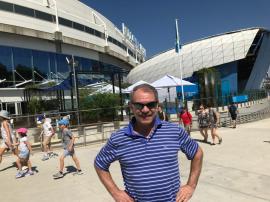 "Wonderful Experience Down Under!"
Hi Chris, I wanted to thank you for the excellent service and delivering the quality seats you promised for the Australian Open. The seats were in the shade and excellent for viewing the matches. I plan to use your services for future ticket needs and refer you to friends looking for a quality ticket service. Thanks again, Bob
- Bob Davey from New York
Australian Open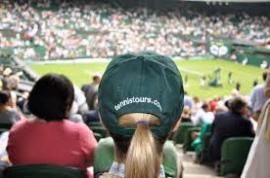 "Once in a lifetime experience!"
Hi. We're back from Wimbledon (certainly a magical place) and just want to thank you for your help getting there. It was a once in a lifetime experience -- great seats, great weather, and all the arrangements worked well. No drama in the tennis when we were at Center Court but we got to see Roger, Rafa and Serena all in one day -- couldn't ask for more. And although I would have liked to have seen the Federer/Anderson match, I probably would have been bummed to see Roger lose. (Mike: are you at the matches this week?) Am watching the Anderson/Isner match now (a nail-biter) and it's such fun to see the grounds and recognize them. Thanks again for your help. Gerry
- Gerry Min from New York City, USA
Wimbledon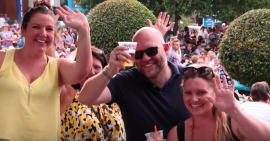 "A thank you from New Zealand "
Hi I just wanted to email to say what fabulous service we have had from you guys throughout our involvement for tickets to the Australian Open. We have just returned and had the most amazing time. Your people were so easy to deal with, with our barrage of questions given our nervousness of booking with a US company from NZ. Even when we called they were so accommodating, polite and knowledgable and every different rep went out of their way to help. Thank you Tennis Tours - we will definitely use you again!
- Anthea Brittliff from Wellington, NZ
Australian Open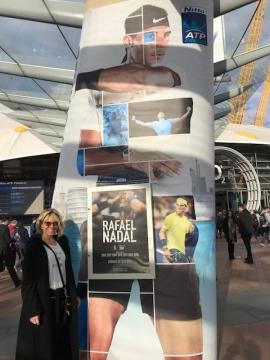 " Federer at the World Tour Finals!"
Chris, Just wanted to send you a quick note while we are in London to thank CTT for setting up our trip. Today we saw Federer vs. Cilic. The seats, which were in the SECOND ROW, were simply amazing! The hotel you booked is located a few tube stops away from the O2 arena. The hotel has a very modern appeal, and it's in a cool area on London. Last night we went to a musical and we go back to the finals on Saturday. Once again, thank you!
- John Malanga from Texas
Nitto ATP Finals Turin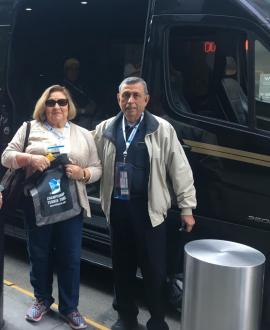 "Well done! Thank you for taking care of my parents!"
Chris, Thank you and your team for making my parents weekend in NYC special. They were very positive with you all and had a great time at the hotel/location (me a wife really like it too), Wiked, and at the Open. Thank you for all the special request I had throughout the last few weeks to make this be special. My mom now wants to go Wimbledon, so you may here from me again! Best, Roberto
- Robert Ruiz from Mexico City, Mexico
US Open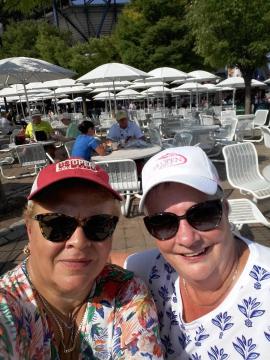 "Unforgettable US Open Experience!"
Hi Chris Just returned from new york having had three fantastic days at the us open tennis I would just like to thank you for giving us excellent tickets and the way they were delivered to our hotel was very professional we were over the moon.We will definitely be using championship tennis tours again. Thanks again Chris and Jessie from Ms. S. Morris
- S. Morris from Maesteg, UK
US Open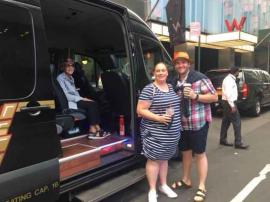 "THIS WAS SO EASY! HONESTLY!"
Coming from England, we saw there were a ton of companies offering tickets to the US Open, but you guys couldn't have made it any easier. When we saw that you had been in business for 30 years, we knew this was the company to go with, and we're so glad we did. Thank you!
- Neil Fuller from Hempsted, England
US Open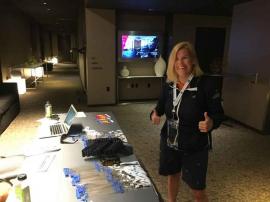 "CHECK THE US OPEN OFF THE LIST!"
I've been to all the majors, thanks Championship Tennis Tours!
- Paige Marshall from Virginia, USA
US Open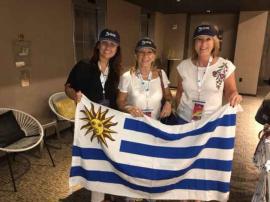 "Vamos Championship Tennis Tours!"
Thank you for all your help...we had 4 tickets for 6 sessions and you delivered everything, perfectly! Gracias
- Marina Rodino from Uruguay
US Open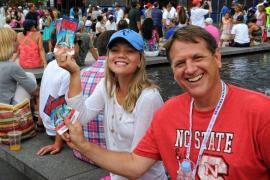 "Promises made, promises kept!"
We received all tickets and documents via FedEx as you promised. You folks do a GREAT job!!! CTT is everything it promises. We're thrilled to be going to the US Open and a Broadway show. Thanks to you! Thank you so much. Best wishes, Mike and Marion Rayeur
- MIke and Marion Rayeur from Nashville, USA
US Open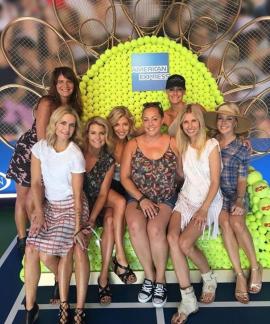 "8 High Maintenance Girls Trip... Well Done!"
Hi Chris, Wanted to thank you for making our trip to the US Open amazing. All your recommendations were spot on, and your Golden Touch shuttle services worked out perfectly.
- Bethanie Fenton from San Francisco, USA
US Open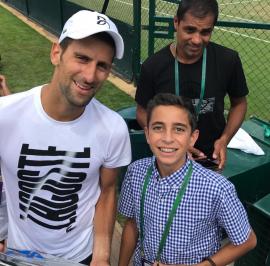 "Wonderful time!"
Mike I wanted to thank you for the set up of tickets for wimbeldon. We enjoyed the training area where we met Federer, Agassi, and Djokovic. I'm sending you a picture with my son and Djokovic. We had a wonderful time and appreciate the excellent seats on Center Court. Thanks again.
- Dr. Baravarian from Los Angeles, USA
Wimbledon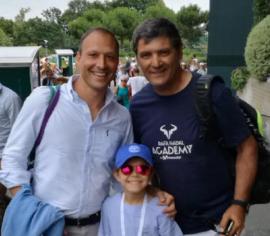 "Dreams Come True. "
Watching my wife and daughter enjoy center court seats at Wimbledon (while they ate strawberries and cream) was as amazing for me as seeing Federer play. We even got to meet Uncle Toni and get an autograph. Your suggestion to go for tickets on Manic Monday was a good one. What a line up we had. We will see you for next year's Roland Garros for sure.
- Paolo from Biella, Italy
Wimbledon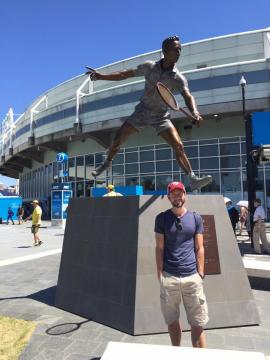 "Completed Grand Slam!"
I want to say thank you to Chris and the team at Championship Tennis Tours for continued outstanding service and for making recommendations for great seats at the Australian Open. I had an awesome view of the #1 men and women players, getting to see Andy Murray and Angelique Kerber in Laver Arena, along with all-time greats like Federer and Venus Williams. I have now achieved a tennis fan's grand slam, having attended all four majors (Australian, French Open, Wimbledon and the US Open), all with tickets from CTT. Service has always been personalized, prompt and attentive, so I will continue using CTT for all of my tournament visits. I would recommend CTT to anyone looking for a great tennis fan experience.
- Burns McKinney from Dallas
Australian Open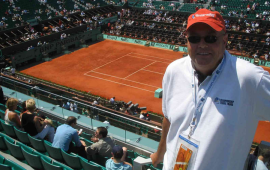 "The best experience ever!"
You guys did an amazing job. Would love to go back to the French Open again very soon. The next one on the list though is Wimbledon and we'll be in contact. Regards, Terry
- Terry Clayton from Canada
French Open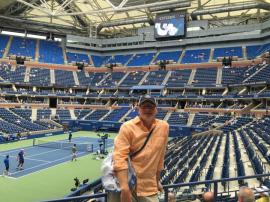 "Wonderful US Open Experience!"
Thanks for helping to organise a great experience getting tickets for Mens Semi-final day. The Courtside corner seats were the best. And provided a fantastic day for my wife and I. In all my contact with Championship Tennis Tours, communication and organisation could not be faulted. From day one they gave me high confidence that things would be well arranged. If I plan to visit any future tennis events I will not hesitate to use Championship Tennis Tours again.
- Jim from Ardrossan, Scotland
US Open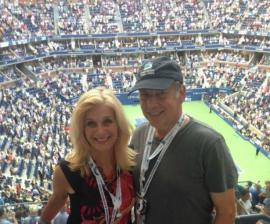 "Unforgettable Anniversary Trip!"
Hi Chris, Just to let you know we had a superb time at the Open. The tickets and hotel arrangements were fantastic and all arrived exactly as you said it would. We really appreciated having our seats in the shade during the hot day sessions thanks to the new roof. Our 52nd anniversary trip was simply amazing! Big thanks!
- Michelle & Dale from New Castle, PA
US Open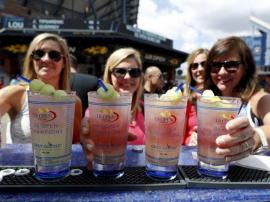 "Amazing US Open!"
Hi Chris, I had another great trip to the US Open, thank you for organising tickets. Seats were great,particularly for men's final slot. Both finals were awesome, kerber and stan deserving winners. New York City is amazing, hoping I will have a chance to visit again Once again I appreciate your service and am sure we will be in touch again. Roger will be back in 2017 !!
- Sangita from London, UK
US Open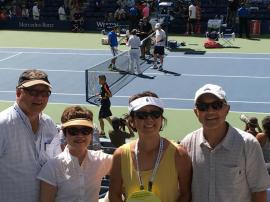 "Great Seats and Great Time!"
Hi Chris, I just want to let you know that we went to the US Open yesterday for the day time QF's and we all had a great time. The seats were great! Great location and perfect level. It was a little hot for a while, but not a big deal, and then it rained and they closed the roof. We saw Nishikori and Murray and it was an awesome match! Thank you again. Next up, Wimbledon! I will definitely contact you if we want to go. I hope everything is going well for you. Thank you again! Best, Brad
- Brad from CALIFORNIA
US Open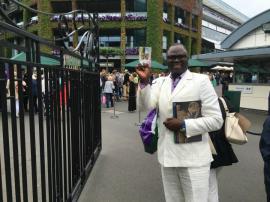 "Incredible Service!"
I'm just returning from my trip to Wimbledon and I want to just say thank you and great job, everything went incredibly well. The hotel May Fair you put me in was great, right across from Green Park, the seats for the last 4 days were amazing, the hospitality reception at the Gatsby Club was terrific. Well done Championship Tennis Tours, we will be back hopefully very soon.
- Dr. Evans from Orlando, USA
Wimbledon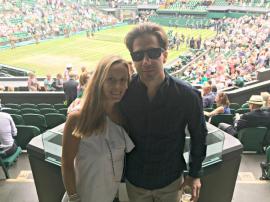 "Perfect 10"
Except for Federer going out in an epic semifinals, our trip to Wimbledon was a 10. Big thanks CTT. The atmosphere is unlike any other tournament and we highly recommend it.
- Jessie Thomas from San Francisco, USA
Wimbledon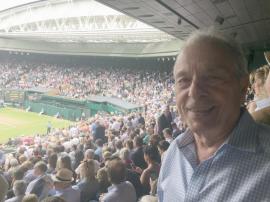 "Everything Went Smoothly"
Hi Chris, Can't say enough about my trip to Wimbledon with Championship Tennis Tours. Your company provided a first rate experience all the way and I'll definitely use you again for the US Open. I had reserveration about having to wait to pick up my tickets at your hospitality, but everything went just as smoothly as you said it would. Thanks
- Mr. Turner from Los Angeles, CA
Wimbledon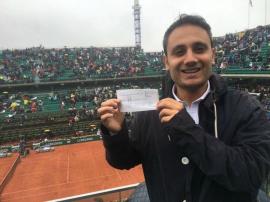 "Check that off the list!"
Hi Chris and Laurie, Was had always dreamed of getting to Roland Garros and you guys made it so easy. The seats were perfect for each of my sessions and we had no problem with tickets. The folks at Roland Garros couldn't have been nicer.
- Jonathan DeBeauville from Cape Town, South Africa
French Open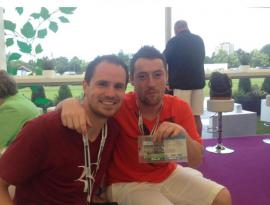 "A trip of a lifetime"
Went to the US OPEN finals weekend in 2012 and was a trip of a lifetime, great seats and no issues collecting my tickets in USA as we came from Ireland. My contact Chris Bumford was genuine nice person to deal which put our minds at ease buying tickets online. Last weekend was given the surprise of a lifetime from Tennis Tours, as my order was given a complimentary upgrade to include hospitality at the Wimbledon Experience along with fantastic seats on Court 1 (which had much better matches than centre that day!). This company is not a greedy money making business, it's a great service with great people behind it, and would definitely recommend these guys to anyone. Had the best weekend ever at SW19, let's hope next weekend Roger will lift his 8th Wimbledon title and 18th grand slam. Honestly can't thank you enough Tennis Tours and especially Chris. You guys are truly awesome. Ps- Check out the amazing seats =)
- R. Duffy from Dublin, Ireland
US Open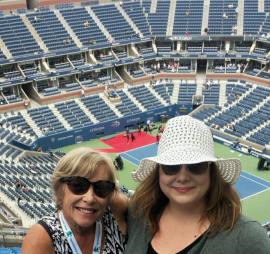 "Great time at the US Open!"
My daughter and I attended the USOpen in 2015! Tennis Tours was wonderful, especially Mandy! Any and all of our questions were answered in a timely manner! Our seats were great and We loved New York! Going back with my sister in 2016!!'
- Liz Watkins from Grand Isle La
US Open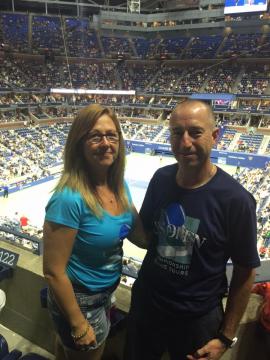 "What a Great Way to Buy Tennis Tickets!"
I am from Australia, I booked my tickets to the US Open this year through Championship Tennis Tours. Wow what a great way to buy tennis tickets. Easy to use booking site, tennis tickets are easy to get and you can see your view on selected seats. Booking tickets for the Australian Open I have been to the last 10 years and French Open I attend in 2013, was never this good. Thanks Championship Tennis Tours, for making the US Open a great tennis experience. PS Thanks for the free T-shirt Cap, visor and lanyards. Great extra touch :)
- Anne Meney from Perth, Australia
US Open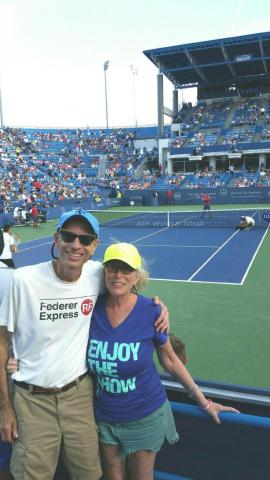 "These Seats Are Amazing!"
THANK YOU so much. Gil & I truly appreciate this peRFect gift. You've spoiled me for life!
- Nancy Berman from Boulder Colorado
Western & Southern Open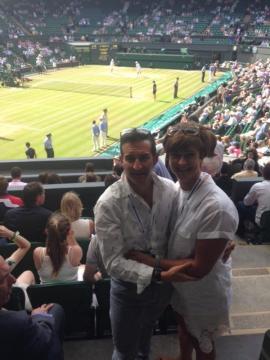 "Thank you for the Wimbledon Experience!"
Dear Mike and Chris, Lisa and I thoroughly enjoyed our time in London. Two epic finals, great hospitality, and SUPER seats - especially for the Men's final! Many thanks for your coordination and organisational efforts. We have now been to all of the Slams...that we wish to visit. Australian Open is of no interest to us. Do you have any proposals for us in 2016?
- Issy Zimmerman from Cape Town, South Africa
Wimbledon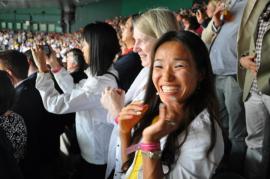 "Wimbledon, a dream come true!"
Dear CTT, Thank you for making this Wimbledon experience happen for my husband and I. It was a dream come true for me. After being stationed in Qatar and Dubai the past 3 years, we've talked about doing this trip. Every aspect of the service was first class all the way. From the hotel accommodations at the Savory to the hospitality in the Gatsby Club, it was just fantastic. The tickets on Center Court were just behind the Royal Box each day. What more can I say, we'll be back!
- Mari Suzuki from Tokyo, Japan
Wimbledon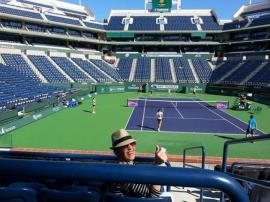 "OMG, we were thrilled!"
This message for Chris! This past March when traveling from New Orleans to Palm Springs to visit with my son and his family, I was Suprised and Thrilled to learn that my son had purchased tickets in Stadium One for he and I to make the Friday 2nd. Round Matches, not realizing what Amazing Seats he had purchased! We arrived there very early to check out our seats, and OMG, were we thrilled!!! We will be making Inidian Wells again this year, and will be in touch with you to purchase our tickets once again. Your friendly and so accommodating service was so appreciated, and we look forward to 2016!!! Thank you again!!!
- Johnnie Flynn from Batton Rouge, USE
BNP Paribas Open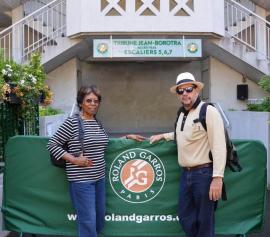 "You could not have been more helpful!"
I just wanted to write and thank you very much indeed for tproviding my wife Jane (aka Pamela on her passport! ) and myselfwith such excellent tickets for the quarter finals at Roland Garros. We had two marvelous days of tennis. The quality of play was outstanding, even if the winners were not always those we wished for! Bit I don't blame CTT for the results! My health stood up very well and, subject to further clear scan, I very much want to come over for a few days later this year for the New York Open. It will probably have to in the first of the 2 week tournament, because of later UK commitments, which means regrettably I won't be able to meet up with you. Can I also ask you, please, to thank both Mandi and Jesse who could not have been more helpful in the fun-up to the roland Garros tournament? I really appreciate, Chris, all the help I have had from you and your colleagues in ensuring that the first holiday I have been able to have with my wife since 2008 was so successful and enjoyable. With all best wishes, Reg.
- Reg Bolton from London, England
French Open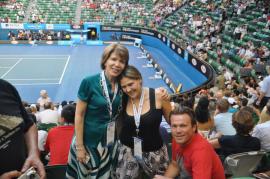 "Great personal service."
Hi Chris, Many thanks for all the arrangements in Melbourne and Sydney. The seats on Rod Laver Arena were insane and we really loved the Langham. The walk over to Melbourne Park was actually beautiful each morning through the park and the guys rowing on the river. Next year we hope to do Indian Wells. See you soon and thanks!
- Miguel Gutierrez from Monterey, Mexico
Australian Open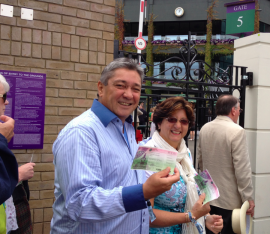 "Gracias Para Todo!"
Hola Mike, Wanted to send a sincere thanks for all your help during our trip to Wimbledon. My wife and I enjoyed taking the tube out to Wimbledon from the Savoy, it was very easy with no changes to make. The center court and court 1 tickets were perfect, just off the baseline for all three days. Thanks again for all your help.
- Senor Angel Martinez from Mexico City, Mexico
Wimbledon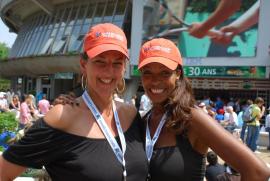 "Wonderful Trip to the French Open"
Mike and Chris, You guys have been amazing to work with. Thank you for the great seats. We even got lucky with the weather!
- Ingrid Von Basten from Amsterdam, Holland
French Open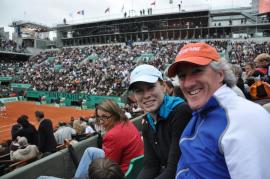 "Fantastic Trip Once Again!"
Dear CTT, Cheri and I wanted to award your company a five star rating for your performance during our first week at the French Open. It was all first class, the hotel, the on site hosts, the reception, bus tour, Seine cruise, Les Grandes Marches, and our seats at Roland Garros.
- Tom Stevenson from New York City, USA
French Open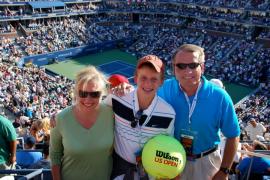 "Grand Slam Completed!"
Dear CTT Team, We just attended the US Open and have now completed the entire Grand Slam under the guidance of Championship Tennis Tours. They are honest, reliable and very attentive to all your travel needs. Grand Slam Packages for Grand Slam events: We look forward to travelling with you in the near future. Thanks again!
- George Webster from Boca Raton, USA
US Open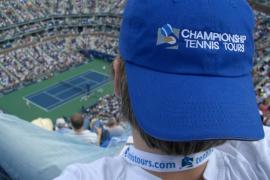 "Trip of a lifetime"
This is John Pichel writing to you. We were part of Jeanne Gesumaria's group at the recent US Open. We had such a great time because of you folks and really got spoiled by the seats you provided us and the great treatment and friendliness you showed.
- John Pichel from Scottsdale, USA
US Open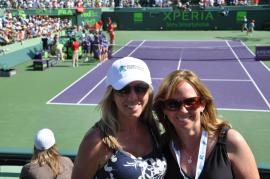 "Best Time Ever"
Hey Chris, Wanted to thank you and your team for taking care of all the details. The seats in section 130 were in the shade and low enough that our kids could easily get all the autographs they wanted. Big thanks!
- Janet Cowens from Atlanta, USA
Miami Open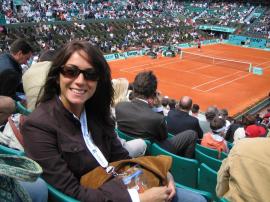 "Perfect Day in Paris!"
What could be better. Great seats at the French Open and steak frites. Thanks guys.
- Gabriella Ramirez from Miami, USA
French Open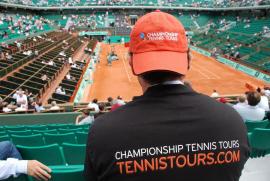 "Let's do it again!"
Dear Chris and Colleagues, It may seem crazy to be speaking of the Roland Garros with Wimbledon going on, but i just wanted to thank you for all our arrangements in Paris. The tickets were amazing (right behind the servers) and everything went as smoothly as you said it would. Here's a pic of me from my seats. Put me down for the US Open.
- Max Difilippo from Edmonton, Canada
French Open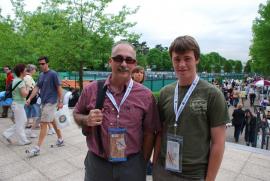 "The tickets were beyond awesome!"
Laurie, I wanted to pass along that we had a wonderful time at the French Open and appreciate the services that Championship Tennis Tours provided in securing our tickets for the event. The ground passes on Friday worked out extremely well for our family - especially our young children. They gave us the necessary flexibility that we needed to keep them occupied and interested. The tickets to the stadium on May 29th that my wife and I enjoyed were beyond awesome. Thanks again. We hope that we'll use your services in the future.
- Brian and Mary Robbins from Hartford, USA
French Open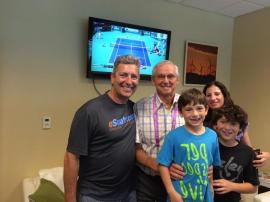 "Great Day at the Matches"
Hi Mandi, The BNP Paribas Open is the third tournament we've attended with Championship Tennis and it won't be the last. Our tickets on Friday in section 149 were amazing, right on the baseline. Sunday was a hot, so it was a relief to have our seats (as you suggested) in the shade. The day in the luxury suite on the Saturday session was great and the kids loved meeting Roy Emmerson. How amazing!
- Debbie Gersh from Dayton, USA
BNP Paribas Open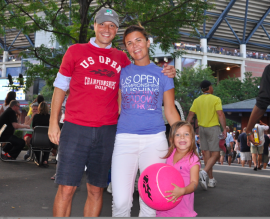 "Grazie Mille!"
Ciao Mike, Thank you thank you. The US Open was fantastic and we loved being at home all week at the W Hotel. Ci vediamo presto!
- Paolo Antonnelli from Torino Italy
US Open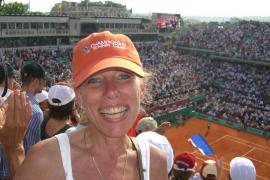 "We're already planning for next year!"
Dear Laurie, We just wanted to say a great big Thank YOU to you and the whole team at CTT! Our trip to Roland Garros was magnificent and truly memorable. In fact, we enjoyed it so much that we are already planning to go again next year!!! Thanks again and kindest regards.
- Linda Watkins from Fayetteville, USA
French Open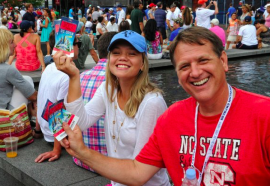 "The atmosphere was electric!"
Dear Chris, We got everything and had an amazing time. Thank you so much! We are keeping your info for my wife's next great adventure request. What a tennis fan she is....she was crushed to hear Federer (sp?) did not make it all the way. Thank you very much for making sure all the plans happened as we hoped.
- Dr. Tom Weissen from Whittier, USA
US Open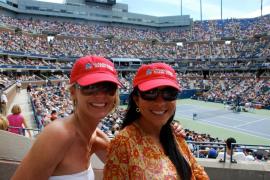 "Great Girls Trip"
Hey Laurie, Wanted to thank you for getting us the upgrade at the W Hotel and for all the help with our tickets. The loge seats worked out perfectly. CTT was great to work with.
- Justine and Holly from San Francisco, USA
US Open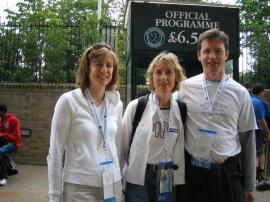 "It was so great!"
Dear CTT, I know this is quite belated, but I must tell you what an absolutely incredible time our entire family had at Wimbledon. We were very nervous about the tickets, we b site validity, type of tickets, etc. as I simply searched the Internet to find you and was rather nervous as our entire trip to London was focused around our days at Wimbledon. To simply say, we were pleasantly surprised is an understatement. Our seats were together, only about 8 rows behind the royal box - we could see it all - tennis at its finest! My children were simply speechless as we passed the endless long line of ticket holders only to be 7th in line at our ticket gate. We walked the beautiful grounds adorned with gigantic floral hanging baskets on a gorgeous sunny day. We purchased several Wimbledon souvenirs and loved the fact that we could check our bags and not have to haul them around with us all day. The lounge that was air conditioned with food service was so refreshing, and also the lounge bathrooms were very clean with no line. The players and matches were simply fantastic! Incredible to be a part of such a tradition. Through Championship Tennis Tours, you created a family memory that will last a lifetime for both my children and husband, whose dream it was to take our children to each of the four Grand Slams. Our annual family Christmas card this year, is photo of all of us at Wimbledon, quite the ultimate tennis experience. Thanks for making a dream of his come true so very perfectly. Hopefully soon, we will be contacting you about the French Open!
- Cheri Tucker from Alexander, USA
Wimbledon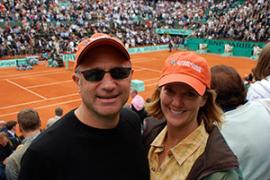 "Thank You!"
Hi Chris,
We have returned safely to our shores and I write to say Thank You for your efforts in getting us to the wonderful Roland Garros. We had a marvelous time! Different to all other Grand Slam Events, but unique and an experience to watch the colors associated with Clay courts and the lively atmosphere of the French crowds. We were impressed with the accommodation ( Scribe Hotel ) and the efficiency of your organization in getting us to and from the tennis and entry into the grounds. We would have no hesitation in recommending Championship Tennis Tours to anyone wanting to attend a major tennis tournament.
Thank You Again!
- Peter & Lois L.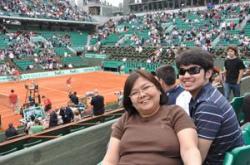 "Just had to tell you what a wonderful time we had at Roland Garros!"
Dear CTT,
Just had to tell you what a wonderful time we had at Roland Garros. There were no problems getting in at all. The upgraded seat was phenominal. I was center court and could not believe my luck. Thank you for all your patience with my emails. If I ever hear that someone is going to try to get to one of the tennis matches I certainly will recommend that they contact Championship Tennis. Should I plan anymore tennis events in my future I certainly will contact you.
Thank you again for a great experience.
- Anne Beers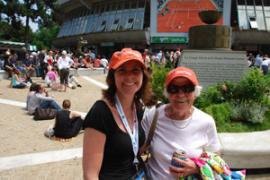 "Another great time at Roland Garros!"
Dearest Chris,
I once again had a fabulous time at Roland Garros. I didn't encounter any problems with the tickets.
I was wondering if you had any Wimbledon tickets for the July 2011 dates? Also, I may try to go to Wimbledon 2012. If possible, will you let me know when the tickets go on sale. Thanks again for everything!
- Sharon Dobson