Ticket guarantee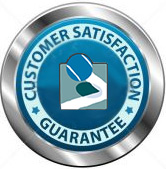 Whether it's individual tickets or a complete package to see tennis' top events, you've come to the right place! But don't take our word for it - read testimonials from just a few of the thousands of delighted customers we've had the pleasure of serving since 1987. Our incredible access to tickets, great prices, and knowledgable, friendly customer service is what we've built our company's reputation on. As tennis fans are known to be Jetsetters, our mobile applications let you easily explore and securely book any of our services quick and easily, even when you're on the go. As a family business, your business is very meaningful to us and greatly appreciated. We look forward to seeing you on Center Court!
Since 1987, all Championship Tennis Tours ticket transactions are backed by our unconditional 100% money back guarantee.
You will receive official, authentic tournament tickets.
You will receive your tickets on-time for your event.
You will be provided an in-store credit if an event is cancelled.
You will receive tickets in the level that you have ordered, otherwise you will be refunded the difference in price between the inferior level provided. The price of the new tickets is based on the published price of those tickets at the time when the tickets are ultimately delivered.
Your tickets will be honored and you will be given access to the seats as indicated on the ticket.
The Championship Tennis Tours "Ticket Guarantee protection covers just your ticket purchase price. Your order must first be confirmed in order to be covered by the Ticket Guarantee. Online orders are not confirmed until a Championship Tennis Tours representative has reviewed the order, verified the tickets are available, and your payment has been made. We reserve the right to deduct the shipping cost from your refund if the tickets for which you are requesting a refund were received by you. Championship Tennis Tours sole obligation or liability for undelivered tickets on orders shall be limited to our 100% guarantee. With this guarantee, Championship Tennis Tours provides a safer, more secure way to purchase tickets than from any other broker or classified ad site. We have been in business since 1987 and have an A rating with the BBB (Better Business Bureau).