Shanghai Rolex Masters
Oct 7

–

Oct 13, 2019

|

Shanghai, China
iNote: Secure and trusted since 1987.
Prices may be above or below face value.
All tickets are 100% guaranteed authentic.
View Photos
The Shanghai Rolex Masters features the world's best singles players in a 56-man draw. This ATP 1000 series event is the finale to a three-week Asian swing of the ATP World Tour. The Qi Zhong tennis facility, built on 80 acres, 27 kilometers southwest of Shanghai is the largest tennis facility in Asia.
More Details and FAQ's . . .
Shanghai Rolex Masters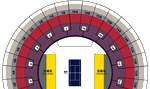 Seating Information
Provisional Schedule
Do you have any questions?
Send an email
. Or call. Arizona Office
local and international call
+1 (480) 429-7700
We don't have any additional information for this tournament at this time. Please check back later for updates. If you have questions about any of our ticket or package offerings, feel free to
give us a call
or
send an email
(
click here
for contact information).
Rolex Shanghai Masters
Q. What is the Rolex Shanghai Masters?
It is one of the world's biggest tennis tournaments and the only such tournament to be staged outside North America and Europe. The Rolex Shanghai Masters, is one of only nine ATP Masters 1000 tournaments in the world and is the culmination and feature event of the Asian Swing. 
Q. Where are tickets that we sell located?
Cat 2 level tickets are located in the B level on the stadium map. Cat 1level tickets are located in the A level on the stadium map.
Q. How does the draw work?
The singles is a 56 draw which means the top eight seeds get first round byes. It is elimination from the first round. There are four wild cards, determined by the tournament directors and seven qualifiers who come through a 28 qualifying draw.
In doubles, it is a 24 draw which means the eight seeds have first round byes. It is also elimination from the first round.
A total of 99 matches will be played—55 in singles, 23 in doubles and 21 in qualifying.

Q. What is the court surface at the tournament?

The hard court surface used at Qi Zhong is called Deco-Turf.

Q. Do children need tickets? Do you offer discounted children's tickets?
Children will also need to pay full price of admission tickets.

Q. Do I need to buy two tickets for the day and night?
Only one daily ticket is needed for all sessions during that date (both afternoon & night sessions)
Q. Can I watch matches on all the courts?
 Ticket holders with a center court ticket can enter all the other courts; Spectators with a ground ticket can enter all the other courts except for the center court.
Q. Are there separate tickets for singles and doubles matches?
No. One daily center court ticket allows spectators to view all the matches (doubles or singles) at any court throughout the day.
Q. When will my tickets be delivered?
Tickets are generally delivered one week before your first day of attendance. Actual delivery times vary from event to event depending on many factors including when tickets are physically allocated by the tournament.
Q. What if my tickets are lost or stolen?

When you receive your tickets, keep them in a safe place. Unfortunately, tickets cannot be replaced if they are lost, stolen, or damaged. Please note that direct sunlight or heat can damage some tickets. 
Q. Will the tickets I order be together?
Yes. All ticket order of two tickets will be together. For orders of 3 or more tickets we do our best to get all the tickets together, but it's not guaranteed. We will make sure to have at least all the tickets as pairs.
Q. When tickets are listed as a "General" ticket for a particular level, what does that mean?
When a ticket is listed as a "General" ticket, such as "CAT 1 - General" this simply means that your tickets are guaranteed to be located in a section within the CAT 1 level. Even though it's listed as "General", all tickets are reserved. You will only know the actual seats (section, row, and seat number) once the tickets are delivered.

Q. How do I get there?

The Shanghai Rolex Masters is held at the Qizhong Tennis Center (No.5500, Yuan Jiang Road, Minhang District) A city shuttle bus service is available during the tournament. 
The shuttle bus starts at the South Square of Xinzhuang Station of the Metro Line 1 and the terminal is between Gate 1 and Gate 2 of Qizhong Tennis Center. The bus stops at Zhuanqiao Station of Metro Line 5. It takes about 45 minutes to complete the route and the ticket costs 2RMB each way. 
When can I expect to receive my Shanghai Rolex Masters Tickets?
Tickets are scheduled to begin being distributed from our office in Scottsdale around the end of September with tickets for the first week of the tournament being sent out first followed by second week orders. If you still haven't received your tickets within one week of your first day of attendance at the tournament, feel free to contact us. Otherwise, please rest assured that your ticket order is being processed normally. If this doesn't work with your travel plans, we can arrange to have your tickets shipped directly to your hotel in the Shanghai area.

Do you have any questions?
Send an email
. Or call. Arizona Office
local and international call
+1 (480) 429-7700
Since 1987, we have had just one mission, and that's to make it as easy as possible for thousands of fans each year to attend the most sought after tennis tournaments in the world. We handle only tennis and have deep experience and understanding of the tournaments we service. You can trust us to take care of all the details, with a level of customer service that will make you a loyal client for years to come.
Mike Bernstein
Championship Tennis Tours