Miami Open
Mar 19

–

Apr 1, 2018

|

Key Biscayne, FL
View Photos
Miami Open Packages
Regarded as the most glamorous tournament on the WTA and ATP calendar, it's also one of the most highly attended with over 300,000 fans last year. The Miami Open provides tennis fans with an incredible mix of great sporting action in a city that is dripping with both daytime and evening pleasures. Put this great event on your schedule, it's already on all the top players who look forward to it with anticipation every year. Championship Tennis Tours has you covered with great hotels and the finest 100 Level (Courtside) and 300 Level (Loge) seats throughout the tournament.


Complete Packages Include
Your choice of either 4 or 5 star Miami accommodationss
Guaranteed Official Miami Open 100 level "Courtside" or 300 level "Prime Loge" tickets
On-Site CTT Representatives
CTT Tour Gifts
Tournament shuttle or VIP Parking Passes
More Details and FAQ's. . .
---
The opening week in Miami is as fun as it is warm. Matches occur left and right in one of tennis most exciting destinations.
Tour Code
Package Dates
Nights
Hotel
Rounds
Tickets Included
Seating Level
Cost Per
Person
# of
People
Subtotal
03/21 - 03/24

3

Opening Rounds
Wed-Thu-Fr (Day and Evening)
This is when the top stars start to pull away from the pack, but not without a fight.
Tour Code
Package Dates
Nights
Hotel
Rounds
Tickets Included
Seating Level
Cost Per
Person
# of
People
Subtotal
03/23 - 03/26

3

2nd / 3rd Rounds
Fri-Sa-Sun (Day Only)
03/23 - 03/25

2

2nd / 3rd Rounds
Sat (Day and Evening)
03/24 - 03/26

2

2nd / 3rd Rounds
Sun (Day and Evening)
Only the very best generally survive into the final rounds of the Miami Open. A stunning run by a rising star is always a possibility. So much fun, you'll already be thinking of booking your spot for next year's tournament.
Tour Code
Package Dates
Nights
Hotel
Rounds
Tickets Included
Seating Level
Cost Per
Person
# of
People
Subtotal
03/26 - 03/30

4

4th Round / Quarters
Tue-Wed-Thu (Day Only)
03/29 - 04/02

4

M/W Semis and Finals
Fri (Day and Evening) - Sat - Sun
03/30 - 04/02

3

Men's and Women's Finals
Sat and Sun
No information here yet.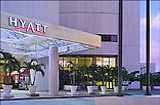 Miami - 4 star Hotels
Championship Tennis Tours features a number of highly rated 4 star properties for the Miami Open including: Hotel Urbano, the Courtyard Marriott Coconut Grove, Hyatt Regency Miami, Intercontinental, and Marriott Biscayne Bay. Some of the hotels offer shuttle service to the tournament. All of the hotel are located within 15 minutes by car from all the action at Crandon Park Tennis Center. The availability at the time of your booking will determin which hotel you are allocated.

The Hotel Urbano Overview:
The Hotel Urbano is an urban boutique property with a resort flair. Guest rooms feature walk-in showers, balconies or lanais, an eclectic interior design and complimentary high speed internet.
Featuring three floors of 65 ultra modern guest rooms uniquely designed to match the contemporary Miami lifestyle, the Hotel Urbano is the perfect place to return to after a day at the Miami Open. Browse through the in-house cable TV channel on art education, where you can view the hotel's on-site art pieces and learn about the artists who created them.
Room Details:
Balcony or Ianai
Bathrobes
In-room safe
Wireless high speed internet
Mini refrigerator
Luxury bath products
Complimentary toiletries
iHome Alarm Clock radio
Cable/satellite TV
Premium TV channels
Iron/ironing board
Electronic key system
Refrigerator on request
Rollaway beds on request
Location:
2500 Brickell Avenue Miami, FL 33129
(305) 854-2070
Distance to Crandon Park Tennis Center: 5 minutes by car.


View Larger Map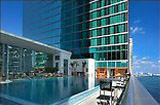 5 star Hotels - Miami
Championship Tennis Tours guests enjoy a truly 5 star accommodation experience with the most sought after properties for the Miami Open . We feature the JW Marriott Marquis and Epic Hotel in Brickell where most of the top players will be staying, as well as the , The Epic Hotel, the Mandarin Oriental, the Ritz Carlton Key Biscayne and Ritz Carlton Coconut Grove. All of these hotels set the perfect oasis for your stay in Miami and many also offer scheduled shuttle transportation services to the tournament for their guests.
Overview of our Featured 5 star property: the JW Marriott Marquis:
CTT guests staying at the JW Marriott Marquis Miami are in for a treat. The hotel infuses sophistication, design, art, fashion and technology into a diverse landscape of business, meeting and pleasure travel pursuits. A new threshold of luxury, defined by the lifestyle of guests seeking privilege and pampering in today's cutting edge plugged in society. The blend of sleek and modern design boast 313 stunning guest rooms with state-of-the-art technology and luxurious bathrooms. Relax and unwind by our pool, indulge yourself in our Enliven Spa or enjoy a unique culinary experience with James Beard award winning Chef Daniel Boulud at DB Bistro Moderne. Amenities abound with two levels of entertainment, including the World-renowned Mariano Bartolome Golf School including instruction, golf simulators, putting greens and Pro Shop. A state -of -the -art fitness center, billiard room, virtual bowling, media room, and an indoor tennis court that is done with the same surface and colors of a court at the Miami Open. Experience the JW Marriott Marquis Miami, the new insignia of urban integration.

All of the hotels we offer are within 15 minutes by shuttle to the tournament.
Typical Room Details:
420 square feet
Spectacular views of the Atlantic Ocean, Biscayne Bay or tropical gardens.
Choice of one king or two double beds.
Sumptuous marble baths.
Fully stocked mini refreshment bar.
Goose down and non-allergenic foam pillows.
Mini refrigerator
Location of JW Mariott Marquis:

255 Biscayne Boulevard Way 

· 

Miami

, 

Florida

 

33131

 

USA

Distance to Crandon Park Tennis Center: 5 minutes by car.

Choose your Miami Open tickets in the exclusive Courtside Box "100 level", "300" mid level, or "400" upper level. Most of the tickets we provide in our complete packages are located in the highly sought out west side of the Center Court stadium which offers the maximum shade protection. You can enter all of the other stadiums with your center court tickets.
How many matches are played in the Stadium during a given session?
Traditionally during the Day Session, there are four matches played in the stadium. During the evening, there are typically two matches played in the stadium. This is subject to both weather and schedule changes. Ultimately, the number of matches is determined by the Referee's Office and is subject to change at any time.
Where is the chair umpire located?
Even with the net line on the east side of the court.
I have tickets for the Day Session, but not for the Evening…will I have access to the Evening Sessions matches?
Once the last Day Session match on Stadium Court is complete, guests will be asked to leave the Stadium Court so it can be cleaned for the Evening Session ticket holders. Guests with Day Session tickets will have the opportunity to stay on the grounds to watch matches on the outer courts but will not have access to the Evening Session matches taking place in the Stadium Court. Day Session guests wanting to stay and watch the matches in the Stadium Court during the Evening Session may purchase tickets at our Advance Ticket Center (located at Guest Services) based on availability.
I have Evening Session tickets…what time can I enter the Grounds and when will I have access to the Stadium matches?
Guests with Evening Session tickets have access to the Grounds at 5:00pm, but will not have access to the Stadium until the scheduled Day Session matches are completed. If Day Session matches happen to run late due to lengthy matches or weather delays, Evening Session guests will not have access to the Stadium until the last Day Session match is finished…but are welcome to watch matches taking place on the outer courts.
I want to purchase tickets to watch my favorite player play…when is he or she scheduled?
The Miami Open is a single-elimination tennis tournament. Due to this fact, the draw for each day will not be announced until the night before around 7pm EST and will be posted on the Miami Open website. Other options would include checking local news outlets such as the Miami Herald newspaper. Depending on when you place your order, Stadium Court tickets may or may not be available. If the Stadium Court is sold out, grounds passes will be made available. Please note that a grounds pass does not provide you access to see matches taking place inside the Stadium Court.
How many courts are there?
There are 18 courts with the Laykold Cushion Plus surface in the Crandon Park facility. Ten courts are used for competition (Stadium Court, Grandstand Court, Courts 1-8) while eight courts are available for practice. Crandon Park also has grass and clay courts that are available for use throughout the year. Of the ten match courts, four are lighted and are used throughout the tournament during Evening Sessions.
When do the matches start?
Match play for the Day Sessions will begin at 11:00am on the Stadium Court, excluding Session 19 and 21 (1pm), Session 23 (Noon) and Session 24 (12:30pm). Evening Sessions on Stadium Court will start at 7:30pm Wednesday, March 21 – Tuesday, March 27, excluding Saturday, March 24, which will begin at 8:00pm. Evening matches occurring Wednesday, March 28 – Friday, March 30 will begin at 7:00pm.
The Women's Singles Final (best of 3 sets) will be played Saturday, March 31 at Noon, followed by the Men's Doubles Final. The Men's Singles Final (best of 3 sets) will be played Sunday, April 1 at 12:30pm, followed by the Women's Doubles Final.
What is the seating capacity of the Stadium Court?
With the addition of the chair-back seats in the 400 Level in 2006, our Stadium Court capacity was reduced from 14,500 to 13,800. Compared to the Arthur Ashe Stadium at the U.S. Open, we are about 2/3 the size.
Free Shuttle Service from the Ritz to Crandon Park Tennis Center.
On-Site Hosts
CTT Tour Gifts
Your Miami Open Package contents including your tennis tickets are delivered to you by FedEx a few weeks before your package begins.

Do you have any questions?
Send an email
. Or call. Arizona Office
local and international call
+1 (480) 429-7700
Since 1987, we have had just one mission, and that's to make it as easy as possible for thousands of fans each year to attend the most sought after tennis tournaments in the world. We handle only tennis and have deep experience and understanding of the tournaments we service. You can trust us to take care of all the details, with a level of customer service that will make you a loyal client for years to come.
Mike Bernstein
Championship Tennis Tours