Swiss Indoors Basel
Oct 23 – Oct 29, 2023 | Basel, Switzerland
iNote: Secure and trusted since 1987.
Prices may be above or below face value.
All tickets are 100% guaranteed authentic.
Switzerland's largest sporting event and one of the most important indoor tournaments in the world, the Swiss Indoors takes place in Basel at the magnificent St. Jakobshalle. Roger Federer, who once served as a ball boy at the Swiss Indoors Basel, fittingly became the first player to win six titles at his hometown tournament in 2014. Switzerland's leading sport event boasts an impressive list of former champions, including tennis Hall of Famers Bjorn Borg, Ivan Lendl, John McEnroe, Boris Becker, Stefan Edberg and Pete Sampras.  Championship Tennis Tours offers great individual tickets and packages to this event.
More Details and FAQ's. . .
St. Jacobshalle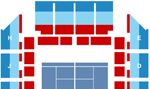 Seating Information
Provisional Schedule
Do you have any questions?
Send an email
. Or call. (800) 468-3664
local and international call
+1 (480) 429-7700
Choose Your Ticket i
Price
Qty
Stadium View (Approximate View)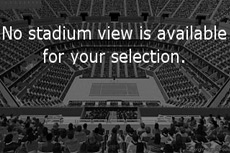 Stadium View (Approximate View)
Description
General tickets can be anywhere within the Promenade Level on Center Court. This ticket also gives you access to all the outside courts, and the Louis Armstrong and Grandstand show courts.

Sections:
We don't have any additional information for this tournament at this time. Please check back later for updates. If you have questions about any of our ticket or package offerings, feel free to
give us a call
or
send an email
(
click here
for contact information).
Swiss Indoors FAQ's
Q. What is the Swiss Indoors?

Switzerland's largest sporting event and one of the most important men's ATP indoor tournaments in the world, the Swiss Indoors traditionally takes place in Basel and always forms part of the end-of-season run-up to the World Finals. The magnificent St. Jakobshalle is the setting for this annual gathering of the elite of the tennis world.

Q. Do Children need a ticket?
For reasons of fire safety among other things, entry to the stadium can only be granted upon production of a valid ticket. A ticket is also required for small children – they may not sit in your lap. The event is not suitable for children under 6 years old.

Q. When will my tickets be delivered?
Tickets are generally delivered one week before your first day of attendance. Actual delivery times vary from event to event depending on many factors including when tickets are physically allocated by the tournament.
Q. What if my tickets are lost or stolen?
When you receive your tickets, keep them in a safe place. Unfortunately, tickets cannot be replaced if they are lost, stolen, or damaged. Please note that direct sunlight or heat can damage some tickets. 

Q. Will the tickets I order be together?
Yes. All ticket order of two tickets will be together. For orders of 3 or more tickets we do our best to get all the tickets together, but it's not guaranteed. We will make sure to have at least all the tickets as pairs.
Q. When tickets are listed as a "General" ticket for a particular level, what does that mean?
When a ticket is listed as a "General" ticket, such as "CAT 1 - General" this simply means that your tickets are guaranteed to be located in a section within the CAT 1 level. Even though it's listed as "General", all tickets are reserved. You will only know the actual seats (section, row, and seat number) once the tickets are delivered.
Q. What is the address of the event?
St. Jakobshalle
Brüglingerstr. 19-21, 4052 Basel

Q. TRAVELING TO THE SWISS INDOORS BASEL BY PUBLIC TRANSPORT?
From Basel SBB (main station) / Bâle SNCF: Tram No. 8, 10 or 11 till Aeschenplatz, change line on Tram No. 14 till stop St. Jakob.
From Basel Badischer Bahnhof: Bus No. 36 without changing till stop St. Jakob.  
Information public transport
During the Swiss Indoors Basel, our guests benefit from the following special offer:
 - Limousine Service from Chauffeur Drive: Our chauffeurs drive you comfortably to the event.     Benefit from a 20% reduction on  the vehicles with drivers. For more information please call +41 (0)44 804 10 50
When can I expect to receive my Swiss Indoors Basel tickets?
Tickets are scheduled to begin being distributed from our office in Scottsdale around the middle of April with tickets for the first week of the tournament being sent out first followed by second week orders. If you still haven't received your tickets within one week of your first day of attendance at the tournament, feel free to contact us. Otherwise, please rest assured that your ticket order is being processed normally. If this doesn't work with your travel plans, we can arrange to have your tickets shipped directly to your hotel in the Madrid area.
Do you have any questions?
Send an email
. Or call. (800) 468-3664
local and international call
+1 (480) 429-7700

Since 1987, we have had just one mission, and that's to make it as easy as possible for thousands of fans each year to attend the most sought after tennis tournaments in the world. We handle only tennis and have deep experience and understanding of the tournaments we service. You can trust us to take care of all the details, with a level of customer service that will make you a loyal client for years to come.

Mike Bernstein
Championship Tennis Tours