Rolex Shanghai Masters
Oct 2 – Oct 13, 2024 | Shanghai, China
Rolex Shanghai Masters Packages
The Shanghai Rolex Masters features the world's best in a 56-player draw for singles, and is the finale to a new three-week Asian swing of the ATP World Tour. The tennis facility, which is Asia's biggest, has been built on 80 acres in the Minghang district, 27kilometers southwest of the city. The Tennis Center includes a dual-purpose indoor-outdoor 15,000-seat center court and 40 indoor and outdoor courts.
Complete Packages Include
3, 4, and 5 star hotel accommodations
Official Rolex Shanghai Masters tickets
Hotel-Tournament transfer credit of $200 per couple
More Details and FAQ's. . .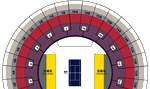 Shanghai Rolex Masters
Seating Information
Provisional Schedule
Tour Code i
# of
People
Package Dates
Nights
Hotel Category
Rounds
Tickets Included
Seating Level i
Cost Per
Person i
Subtotal
10/08 - 10/13
5
Opening Rounds
Mon-Wed
10/11 - 10/16
5
Final Rounds
Fri-Sun
URBN

Contemporary

NEIGHBORHOOD: Downtown

The URBN hotel brings its appeal through being environmentally friendly whilst maintaining modern architecture and design. With only 26 rooms this hotel is one of the smallest in town and yet is indisputably unique with its reused wood and bamboo infrastructure. It's all very peaceful; all very Zen-like - which in the middle of Shanghai, is arguably very hard to achieve! It may not be for the business traveler (rooms have no traditional desks or tables) but will be ideal for anybody looking to unwind.

Full Description and More Photos

Kerry Hotel

Traditional Elegance

NEIGHBORHOOD: Pudong

The new, slightly more youthful sub-brand from the venerable Shangri-La chain is off to a roaring start in Shanghai: the Kerry Hotel Pudong is the Kerry flagship, and in Shanghai it's supported by the whole Kerry Parkside complex, effectively adding a shopping mall and an office tower to the Kerry's five-star offerings (not to mention close proximity to the Shangai New International Expo Centre). If you've stayed at a Shangri-La — or just about any Asian luxury chain — then you'll quickly grasp the Kerry concept: top-flight luxury in the rooms, an exhaustive list of business and leisure services, big-name restaurants and bars, and a highly professionalized approach to service. In the Kerry's case you can add a conservatively contemporary visual style and an atmosphere that's a touch less formal than its Shangri-La counterpart. Some things don't change: there's still seven floors of Club accommodation, the luxury-hotel equivalent of flying business class. But when it comes to food and drink, the Kerry Pudong has some welcome surprises in store, its formal Cantonese restaurant joined by a casual steakhouse, a gourmet food shop with an associated cafe and lounge, and an artisanal craft brewery, surely unique in Chinese luxury hotels, serving beers hand-made by the resident brew master.

Full Description and More Photos

Courtyard by Marriot

Quality Chain

NEIGHBORHOOD: Puxi

The hotel is located in the heart of Shanghai Jingan District, the Jingan District is an ideal destination for business and leisure. The Metro line 1, 3, 4, 12, 13 just 200 meter from hotel, take you to the Shanghai Railway Station, Yu Garden, Xin Tian Di, Tian Zi Fang, Shanghai Museum of Natural History, Nanjing Road West, Jing An Temple, and People's Square. In addition, hotel is just 30 minutes from Hongqiao International Airport and 50 minutes from Pudong International Airport. Guests will enjoy spacious accommodations featuring well-lit desks, high-speed Internet, in-room safes and mini-bars, as well as a 30th-floor Executive Lounge with panoramic skyline views. To satisfy your craving, our MoMo cafe, MoMo 2 Go and lounges offer coffee, cocktails and casual dining throughout the day. Jump-start your day in our 24-hour fitness center, unwind in our indoor heated pool.

Full Description and More Photos

The Qube Hotel Xinquiao

Close to Event

NEIGHBORHOOD: Xinqiao

The Qube Hotel Xinqiao Shanghai is one of the closest hotels to the tournament, located approximately 15 minutes by cab from the Qi Zhong arena. It is located only 30 minutes from downtown Shanghai, and 30 minutes from Shanghai Hongqiao International Airport (SHA) . It is close by Xinzhuang Station on Metro Lines 1 and 5. For added convenience, the hotel is connected to an upscale retail and commercial complex comprising a shopping mall with bars, restaurants, a cinema, and supermarket.

Full Description and More Photos

Shanghai Manhattan Hotel

Close to Event

NEIGHBORHOOD: Minhang

The Shanghai Manhattan Hotel Minhang is approximately 10-15 minute by cab to the tournament. The Shanghai Shanghai Manhattan Hotel Minhang offers 158 guestrooms complete with a minibar, climate control, TV, a work desk and a phone... The Manhattan Hotel (Shanghai Minhang) (Manhadun Jiudian Shanghai Minhang dian) is located just 10 minutes' walk from Jinping Road Station on Metro Line 5. Diners can enjoy eating at a Chinese restaurant. A coffee shop is also on site serving a selection of meals and drinks.

Full Description and More Photos

Cachet Boutique

Boutique

NEIGHBORHOOD: Downtown

Cosmopolitan and electric, Shanghai is the new financial hub of the world with a rich history, and Cachet Boutique Shanghai offers an experience that perfectly combines the city's storied past and culture with modern day comforts and services. Located in an immaculately refurbished 1920s building in the very heart of Downtown Shanghai, Cachet Boutique's doors are within mere steps of the myriad of shopping options on bustling West Nanjing Road, as well as the city's exciting dining and night culture on Wujiang Road, one of the few remaining pedestrian streets in Shanghai. Indoors, Cachet Boutique Shanghai highlights the work of local Chinese artists through its room and furniture design, as well as artwork exhibited throughout the property.

Full Description and More Photos

Le Meridien Shanghai - Minhang

Close to Event

NEIGHBORHOOD: Minhang

One of the nicest hotels closest to the Qi Zhong stadium, approximately 13 miles from the tennis. The hotel is also in close proximity to Qibao Ancient Town, shopping areas and subway stations. The hotel is an ideal gateway for discovering a distinctive blend of ancient and modern Shanghai in an inspiring setting, comprising elegant facilities and guest rooms. Traveling to and from the hotel is very convenient with the National Exhibition and Convention Center Shanghai, Hongqiao Train Station and Hongqiao International Airport only 15 minutes away, Pudong International Airport only 60 minutes away. Over 2,500 square meters of multi-functional conference spaces, Le Méridien Shanghai, Minhang the ideal place for meetings and conferences. Our 240 brand-new guest rooms and suites offer the ultimate in comfort as well as exclusivity, providing an endless array of culinary options and facilities - 4 distinctive restaurants and bar, a Fitness Center with an indoor swimming pool and Spa. Discover a world of possibilities and enjoy a new perspective of Shanghai, complemented by chic comfort and gracious hospitality.

Full Description and More Photos

Shanghai Renji Hotel

Close to Event

NEIGHBORHOOD: Min Hang

Shanghai Renji Hotel is within walking distance to the tennis. Situated approximately 30 minutes driving distance to Hong Qiao International Airport and Xujiahui CBD area enjoying a very convenient transportation and pleasant living environment and categorized as a 4 star garden styled business resort hotel coming with the most guest rooms, comprehensive facilities and deemed as one of the highest quality hotels near the tournament. The hotel houses 145 guest rooms – major categorized as Standard, Deluxe, Deluxe Suite and Executive Suite – high quality and stylish interior decoration and fitting-out, full range of facilities for both living and business conveniences in a pleasant and warm atmosphere, High-speed Internet broadband access, guest-orientated and attentiveness services, Western and Chinese flavored restaurant with VIP rooms offering different east meets west cuisines, various sized convention rooms and multi-function room readied with full sets of sophisticated A/V acoustics, tennis court, health center, and indoor/outdoor swimming pools,

Full Description and More Photos

Hotel Indigo

Classic

NEIGHBORHOOD: The Bund

At the Hotel Indigo Shanghai on the Bund hotel, found along the south end of the Huangpu River, our lobby's eclectic sculptures and installations bring artifacts, such as retired rickshaws and shipyard metal reclaimed from historic Shiliupu Dock, to life. Our neighborhood is reflected in each of our guest rooms through carefully sourced Shikumen bricks, spa-like bathroom decor suggesting Pudong's skyline, and murals of nearby Yu Garden. Enjoy our indoor pool with river views before you share authentic xia long bao dumplings in the library at Quay, our neighborhood cafe, or taste the glamour of old Shanghai at CHAR Bar & Grill. We offer four event spaces with natural light perfect for everything from brainstorms to fashion shows. For something different, ask our team members for tips on dining in Cool Docks or shopping on Nanjing Road.

Full Description and More Photos

InterContinental Shanghai

Traditional Elegance

NEIGHBORHOOD: Pudong

Hotel is located in the heart of Pudong. The experienced and caring team is ready to welcome you into an oasis of luxury offering personalized preferences with an extensive selection of authentic local and international dishes .The fully refurbished Club InterContinental bedrooms offer luxurious comfort with the dedicated attention of the Club team with views overlooking the city providing you a home from home.

Full Description and More Photos

Hyatt on the Bund

Traditional Elegance

NEIGHBORHOOD:

Strategically located at the northern end of the Bund, Hyatt on the Bund is a 3-minute stroll from Waibaidu Bridge. Offering spectacular views of the Bund, Huangpu River and Lujiazui financial district, it features a spa and wellness center, a range of versatile meeting rooms with 2 ballrooms and gourmet cuisine across 4 stylish restaurants. Located by the side of Huangpu River, opposite of Oriental Pearl Tower, Hyatt on the Bund is a short 5-minute drive from People's Square and an 8-minute drive from Yuyuan Garden. Lujiazui financial district can be reached within a 15-minute drive via Xinjian Road Tunnel. Pudong International Airport is a 1-hour car journey away. Offering either views of Pudong skyscrapers across the river or the Bund's colonial buildings, each spacious guestroom is fitted with a flat-screen TV with satellite and cable channels, an iPod docking station and a mini-bar. The generous working area, cozy seating area with sofa and works of art create an elegant atmosphere. The marble bathroom includes bathrobes, a rain shower and a soaking bathtub. Guests are welcomed to indulge in a calming spa treatment at Yuan Spa, try out the state-of-the-art equipments at the fitness center, take a dip in the indoor pool, or participate in Tai Chi classes. The 24-hour Business Center provides travel arrangements, translation and secretarial services. Occupying the top 4 floors of the hotel, Vue Restaurant serves classic European dishes with a 270-degree view over the historical Bund. The authentic Chinese regional cuisine is provided at Xindalu. Hearty international buffet spreads are available at Aroma. Alternatively, guests can spend a relaxing afternoon enjoying beverages at Tea Room. Hongkou is a great choice for travelers interested in architecture, sightseeing and city walks. This property also has one of the top-rated locations in Shanghai! Guests are happier about it compared to other properties in the area.

Full Description and More Photos

JUMEIRAH HIMALAYAS HOTEL

Contemporary

NEIGHBORHOOD: Century Park

The combination of the world's most exciting city and the world's most over-the-top hospitality group was always going to raise eyebrows. So what have the originators of Dubai's fantastical Burj Al Arab cooked up for Shanghai? Just the Jumeirah Himalayas Hotel, a riotously colorful neon-lit cube atop the Himalayas Center, itself an insanely futuristic mixed-use development that's turned Pudong into a dead ringer for one of the sets from Blade Runner, and which makes Beijing's Olympic stadium look positively neoclassical by comparison. What draws the Jumeirah Himalayas back from the precipice is its interiors, which, in the rooms at least, show a remarkable devotion to Chinese tradition. For all the fireworks in the exterior, and the Vegas-like excess of the public spaces, the accommodations come in rather on the tasteful end of things; they're unflaggingly luxe in their comforts and equipment, of course, but the visual style is pure contemporary Chinese classic. The cube of the hotel surrounds an enormous cylindrical 14-story atrium, which means that some of the interior views are as dramatic as the exterior ones. And the Jumeirah's position in the Himalayas Center means it's about as conveniently located as they come; in addition to the hotel's own supply of restaurants and bars, guests will have access to a shopping mall, an art museum, and easy transport links via the maglev rail station.

Full Description and More Photos

Park Hyatt

Contemporary

NEIGHBORHOOD: Pudong

It's our official position that Shanghai is a city that international business-travel types are going to be seeing a lot of in coming years. But where to begin? You could do a lot worse for a kind of hospitality Rosetta Stone than this: see how the ever-reliable Park Hyatt concept translates to Shanghai, and see the city from 80-odd floors up in the process. So that's a start: a bit like Tokyo, but even bigger. The Park Hyatt Shanghai occupies floors 79 through 93 of the Shanghai World Financial Center, which for a brief moment in history meant it was the World's Highest Hotel. Anyway it's not the height that makes this (or any) Park Hyatt special so much as its sheer quality — the view out the window here is fine enough, but it's the stylish modern interiors and the state-of-the-art equipment that make these rooms into something more than just fancy camera angles. This being the Vertical Complex City, there's almost no need to step outside the building — the Park Hyatt's facilities are comprehensive as usual, including Chinese, Japanese and Western offerings in a single restaurant and bar, and a spa, complete with far-ranging views from the indoor pool.

Full Description and More Photos

The PuLi Hotel and Spa

Boutique

NEIGHBORHOOD: Central Shanghai

From the moment you enter the lobby, and throughout your stay, The PuLi Hotel and Spa will transform your expectation of luxury. As one of the first luxury urban resorts in Shanghai, The PuLi Hotel and Spa is centrally located between Nanjing West Road and YanAn Road, adjacent to the multi-use development Park Place. With 193 rooms and 36 suites, The PuLi offers 24-hour butler service, in-room dining, concierge, laundry and valet services, and a Michelin restaurant. The Health Club is equipped with a state of the art gymnasium, sauna, steam room, experiential showers, whirlpool, 25-metre heated infinity pool as well as the inaugural UR SPA in China. With different venues to choose from for your private event or meeting, guests can experience handcrafted service from tailor-made menus to programming assistance. The Level 1 Garden Terrace, Level 2 all-day dining restaurant and Private Dining Room, Level 3 Meeting Room, and Level 26 offer multifunctional space where one can host exclusive and intimate events for up to 150 guests.

Full Description and More Photos

JW Marriott

Traditional Elegance

NEIGHBORHOOD: Puxi

JW Marriott Hotel Shanghai at Tomorrow Square rises 60 stories above downtown Puxi and is located in the heart of Shanghai's commercial and shopping district and within easy reach of the city's many leisure attractions such as Shanghai Museum, Shanghai History Museum, Shanghai Grand Theatre and the Bund. JW Marriott Hotel Shanghai at Tomorrow Square's 333 hotel rooms offer captivating views of the city, enveloping guests in the lavish appointments and business-savvy amenities. While here, guests can embark on a culinary journey, with a choice of fine restaurants serving authentic Chinese cuisine and contemporary specialties. In addition, guests can enjoy the hotel's 24-hour health club and indoor/outdoor pools. For intimate weddings to dynamic conferences, this luxury hotel on Nanjing Road also offers over 1,515 square meters of spectacular function spaces, which boasts great views and natural sunlight.

Full Description and More Photos

The Portman Ritz Carlton

Posh

NEIGHBORHOOD: Puxi

Inspired by China's dynamic present and informed by its storied past, The Portman Ritz-Carlton, Shanghai offers luxury in the renowned Puxi neighborhood. From its elegant accommodations and spa to its coveted location near Nanjing Road, every detail is refined to create a seamless and serene experience in the middle of a pulsating metropolis. Discover a stylish cosmopolitan haven, where distractions fade away and luxury lives large.

Full Description and More Photos

The Mandarin Oriental

Traditional Elegance

NEIGHBORHOOD: Pudong

A five-star luxury hotel located on the banks of the Huangpu River. In the heart of Pudong's financial district, we offer the perfect combination of style, comfort and world-class service. We pride ourselves on our innovative restaurants, serene spa and contemporary design.

Full Description and More Photos

The Peninsula

Traditional Elegance

NEIGHBORHOOD: The Bund

In busy, buzzy Shanghai, the Peninsula offers a calm respite from city life, beginning with a private Rolls-Royce or BMW pickup from the airport to the hotel. Once there, guests find oversize rooms (starting at 581 square feet) in soothing shades of cream and white with generous use of dark wood. Two of its restaurants, meanwhile, were awarded Michelin stars: Sir Elly's for its modern take on European cuisine (and its 400-label wine list), and Yi Long Court, for Cantonese dishes. After dinner, head to the atmospheric, 1920s-inspired Salon de Ning for a nightcap and live music.

Full Description and More Photos

The Waldorf Astoria

Traditional Elegance

NEIGHBORHOOD: The Bund

Combining the history and culture of the celebrated Shanghai Bund with a taste for 21st century sophistication, Waldorf Astoria Shanghai on the Bund offers a heritage ambiance, legendary service and timeless amenities to make your stay truly memorable and distinct. Housed within the two-building complex are 260 well-appointed rooms and suites, stylish environments for dining and lounging, extensive banquet facilities with stunning views, a luxurious Spa, fitness center, complimentary WiFi and more, all set in a picture perfect setting that speaks volumes of the grandeur and finesse that is uniquely ours.

Full Description and More Photos

Fairmont Peace Hotel

Traditional Elegance

NEIGHBORHOOD: The Bund

Fairmont Peace Hotel, situated in Shanghai, China, is a 'luxurious Art-Deco masterpiece', brilliantly reinvented for the 21st century where old fashioned glamour sparkles with a new luster. Situated at the famous Bund promenade and the unrivaled shopping area on Nanjing Road, it is the perfect place to explore Shanghai's spectacular scenery and vibrant lifestyle. This landmark hotel has historically served as a glamorous playground for the elite, where every night was an extravagant gala event and veritable Parisian fashion show. Fairmont Peace Hotel continues to be a sought after venue for meetings, weddings and social events in the city. With the famed Peace Hall meticulously restored to its original grandeur, guests can revive memories of old Shanghai cabarets and gala parties whilst stepping on the iconic sprung-wooden dance floor. While keeping the traditions intact, such as the opulence of the signature Chinese restaurant Dragon Phoenix and the esteemed Jazz Bar, Shanghai's premier destination for jazz, the legendary hotel's new and contemporary spirit is felt in the elegant Cathay Room and Terrace with spectacular views of Pudong, the refined Jasmine Lounge as well as the Parisian style Victor's Café. The Shanghai Luxury hotel offers 270 distinctive guestrooms, including 39 luxurious suites, which blends art-deco-inspired furnishings with modern amenities. Our Fairmont Gold executive floor features private check-in, lounge access, continental breakfast and afternoon canapes. From the exquisite décor to the impeccable service, Fairmont Peace Hotel is an extraordinary hotel in Shanghai and a luxurious lifestyle destination that offers every indulgence.

Full Description and More Photos

The Langham Shanghai

Contemporary

NEIGHBORHOOD: Xintiandi

A strikingly timeless style in Old Shanghai. Located at the gateway to the "Champs Elysees of the East," unwind in tranquil sophistication and enjoy exploring the crossroads of where old meets new. ROOMS AND SUITES Blending traditional Chinese elements with chic contemporary style, our 357 guest rooms and suites envelope travelers in spacious comfort. Each room elegantly appointed with indulgent furnishings and our signature amenities. All featuring stunning views of dynamic Shanghai framed by large floor-to-ceiling windows.

Full Description and More Photos

Four Seasons Shanghai

Contemporary

NEIGHBORHOOD: Puxi

Rising 37 stories above a seemingly endless landscape, our Puxi Hotel was the first Four Seasons to open in China and remains a favorite stop for business travelers and families alike. You'll find us in Shanghai's historical heart, located between the Bund and the former French Concession, surrounded by shikumen architecture and bustling downtown streets that give our lively neighborhood an undeniable charm. Sit down for Michelin-recommended Cantonese and Shanghainese cuisine at Si Ji Xuan, relax on our landscaped pool terrace or take an exalted trip back in time and tradition at Qin the Spa.

Full Description and More Photos

W Shanghai

Contemporary

NEIGHBORHOOD: Bund

W Shanghai - The Bund is located on the up-and-coming North Bund. Unveiling views of the Huangpu River, 374 supremely chic guestrooms and suites fuse sophisticated Mandarin designs with playful contemporary twists. Innovative in design, 5,800 square meters of function space, including the 2,050 square meters Great Room and 12 function rooms illuminated in natural light, ensures

Full Description and More Photos

Twelve at Hengshan

Boutique

NEIGHBORHOOD: French Concession

Not to be smug about it, but we've been saying for years that Shanghai was going to be the business capital of the future. And now that the future is here, that prediction is looking pretty good. Glorious modern luxury hotels are even sprouting up in the traditional environs of the old French Concession; this one, Twelve at Hengshan, was designed by the Italian architect Mario Botta, who brought with him the terracotta bricks that make up the hotel's sleek geometric façade. It's a part of Starwood's Luxury Collection, so it's hardly a fly-by-night operation. But neither is it a bit of beige corporate blandness — they're not averse to a bit of personality around Luxury Collection way, and this hotel's got a generous helping of it. Not only is the architecture almost excessively distinguished, but hidden away from the street view is an elliptical central courtyard, which is an unexpected bit of green in a city that's better known for other shades. Meanwhile in the rooms you'll find things looking a bit more familiar. Which is not a bad thing. The look is Art Deco, Chinese-style, which is also not a bad thing. Nor are the massive windows with their views of the city or the quiet courtyard — they actually open to let the air in, which is either a treat or a slight hazard, depending on the day — or the large and lavish bathrooms and the generous living spaces. Add to that a couple of restaurants and bars serving both international and Cantonese fare, and one of the better hotel spas in Shanghai, and you've got yourself an impressive luxury hotel. We told you to watch this space.

Full Description and More Photos
[+] Add Option(s) to Your Package
No information here yet.
Shanghai Hotels
It's the most go-getting city, in the world's fastest-growing nation. Shanghai has some of the nicest hotels in the world to choose from with impeccable service. Most of our featured hotels are in the popular Bund, Puxi, Pudong and the beautiful gentler French Concession with its leafy lanes and grand colonial-era mansions. It is a delightful contrast to the hustle and bustle of downtown. The city is divided into two: the modern part, Pudong, on the east of the river, and the older section, Puxi, to the west. We've hand selected the finest hotels throughout the city in each hotel star level for your accommodations.

Choose your Rolex Shanghai Masters tickets in the exclusive Lower Level
Rolex Shanghai Masters
Q. What is the Rolex Shanghai Masters?
It is one of the world's biggest tennis tournaments and the only such tournament to be staged outside North America and Europe. The Rolex Shanghai Masters, is one of only nine ATP Masters 1000 tournaments in the world and is the culmination and feature event of the Asian Swing. 
Q. Where are tickets that we sell located?
Cat 2 level tickets are located in the B level on the stadium map. Cat 1level tickets are located in the A level on the stadium map.
Q. How does the draw work?
The singles is a 56 draw which means the top eight seeds get first round byes. It is elimination from the first round. There are four wild cards, determined by the tournament directors and seven qualifiers who come through a 28 qualifying draw.
In doubles, it is a 24 draw which means the eight seeds have first round byes. It is also elimination from the first round.
A total of 99 matches will be played—55 in singles, 23 in doubles and 21 in qualifying.

Q. What is the court surface at the tournament?

The hard court surface used at Qi Zhong is called Deco-Turf.

Q. Do children need tickets? Do you offer discounted children's tickets?
Children will also need to pay full price of admission tickets.

Q. Do I need to buy two tickets for the day and night?
Only one daily ticket is needed for all sessions during that date (both afternoon & night sessions)
Q. Can I watch matches on all the courts?
 Ticket holders with a center court ticket can enter all the other courts; Spectators with a ground ticket can enter all the other courts except for the center court.
Q. Are there separate tickets for singles and doubles matches?
No. One daily center court ticket allows spectators to view all the matches (doubles or singles) at any court throughout the day.
Q. When will my tickets be delivered?
Tickets are generally delivered one week before your first day of attendance. Actual delivery times vary from event to event depending on many factors including when tickets are physically allocated by the tournament.
Q. What if my tickets are lost or stolen?

When you receive your tickets, keep them in a safe place. Unfortunately, tickets cannot be replaced if they are lost, stolen, or damaged. Please note that direct sunlight or heat can damage some tickets. 
Q. Will the tickets I order be together?
Yes. All ticket order of two tickets will be together. For orders of 3 or more tickets we do our best to get all the tickets together, but it's not guaranteed. We will make sure to have at least all the tickets as pairs.
Q. When tickets are listed as a "General" ticket for a particular level, what does that mean?
When a ticket is listed as a "General" ticket, such as "CAT 1 - General" this simply means that your tickets are guaranteed to be located in a section within the CAT 1 level. Even though it's listed as "General", all tickets are reserved. You will only know the actual seats (section, row, and seat number) once the tickets are delivered.

Q. How do I get there?

The Shanghai Rolex Masters is held at the Qizhong Tennis Center (No.5500, Yuan Jiang Road, Minhang District) A city shuttle bus service is available during the tournament. 
The shuttle bus starts at the South Square of Xinzhuang Station of the Metro Line 1 and the terminal is between Gate 1 and Gate 2 of Qizhong Tennis Center. The bus stops at Zhuanqiao Station of Metro Line 5. It takes about 45 minutes to complete the route and the ticket costs 2RMB each way. 
Your Rolex Shanghai Masters Package contents including your tennis tickets are delivered to you by FedEx a few weeks before your package begins.

Do you have any questions?
Send an email
. Or call. (800) 468-3664
local and international call
+1 (480) 429-7700

Since 1987, we have had just one mission, and that's to make it as easy as possible for thousands of fans each year to attend the most sought after tennis tournaments in the world. We handle only tennis and have deep experience and understanding of the tournaments we service. You can trust us to take care of all the details, with a level of customer service that will make you a loyal client for years to come.

Mike Bernstein
Championship Tennis Tours