WTA Finals
Oct 30 – Nov 5, 2023 | Shenzhen, China
The season-ending WTA Finals featuring the top 8 players on the tour is moving from Singapore to Shenzhen starting next yea for the next decade. The tournament will be held October 27th - November 3rd. The prize money will also be doubled and the and a new state of the art 12,000-seat stadium will be ready for 2020. For 2019, the tournament will be held for one year at the beautiful Shezhen Bay Sports Center Arena.
More Details and FAQ's . . .
CR SHENZHEN BAY SPORTS CENTER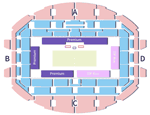 Seating Information
Provisional Schedule
Do you have any questions?
Send an email
. Or call. (800) 468-3664
local and international call
+1 (480) 429-7700
The Racquet Club level is the south sections within the Category A level.
WHAT exactly is this all about?
The BNP Paribas WTA (Women's Tennis Association) Finals Singapore presented by SC Global is the WTA's crown jewel event and takes place at the end of the year. This year, it will take place in Singapore October 21-28th, 2018. The Finals sees tennis' most exciting women's stars – the Top 8 Singles players and Top 8 Doubles teams – come to Singapore to contest in the season ending tournament for a record US$7 million in prize money.
WHERE is this going to be held?
The BNP Paribas WTA Finals Singapore presented by SC Global will be staged at the state-of-the-art SG$1.3 billion Singapore Sports Hub. All competitive matches will be played at the iconic Singapore Indoor Stadium, a major facility within the all-new Singapore Sports Hub. The Fan Festival will be organized on the grounds of the 35 hectare Sports Hub, situated at the edge of the Kallang Basin, next to Singapore's city centre. The Sports Hub will feature a 55,000-seat National Stadium with a retractable roof; a 6,000-seat OCBC Aquatic Centre; an OCBC Arena capable of hosting indoor sports events with up to 3,000 seats in capacity; a Water Sports Centre; 41,000 sqm of commercial retail space; Community Sports Facilities such as basketball courts, beach volleyball courts, rock climbing wall, lawn bowls green, jogging and cycling sports promenade; and the existing Singapore Indoor Stadium.
WHEN exactly will this take place?
October 21st - 28th, 2018
WHY should I even be there?
After 56 Events and 4 Grand Slams, held across 33 countries, only the world's Top 8 make it to the BNP Paribas WTA Finals Singapore presented by SC Global. It is celebrated as the most prestigious, anticipated, and coveted tournament on the Women's Tennis Sporting Calendar. Beyond the actual competition, expect other tennis-related events, including the WTA Future Stars competition which will also showcase the best of U16 and U14 talent from the region. 
The Fan Festival is where you get to catch your favourite stars up close, "meet and greet", practice court viewings, etc. Networking Sessions through business conferences and events will also be organised. VIEW Racquet Club Schedule
WHO is going to be at the WTA Finals?
Expect to meet tennis' most exciting stars – the Top 8 Singles players and Top 8 Doubles teams – of the world. At WTA Future Stars, be amongst the first to view the best of U16 and U14 talents in the region. 
At the Racquet Club, rub shoulders with the who's who of local, regional, and global tennis, from fellow fans to pundits, athletes and their associates.
About the Tournament
WHAT is the format of the competition?
In the Singles competition, the players will compete in Round Robin Group Play in two groups. 
The winner of group A will play the runner-up in Group B, and the runner-up in Group A will play the winner of Group B in the Semi-Finals, and the winners will contest the Final.
In the Doubles competition, the teams will play in a straight knockout format through the Final.
WHY can't I find out right now WHEN my favorite players will play?
As players compete to qualify through a series of tournaments throughout the year, it is impossible to predict when particular players will play in the tournament. The "Road to Singapore" leaderboard on the WTA Finals website will serve as the best and most useful guide for the frontrunners. 
When your favorite players take to the courts, will be known only after the Draw is made just before competition commences in October. However, the first five days of the competition will definitely see all players in the Singles competition in action. With so many top players playing against one another in Round Robin format during the opening round of matches, every session will feel like a Grand Slam final!

What kind of surface is the tournament played on?
The tennis tournaments are played on an indoor hard court. Centre Court is located at Singapore Indoor Stadium.
Where can I get the latest news and information about the finals on the go?
Follow us on Facebook, Instagram and Twitter at @WTAFinalsSG and sign up here for our newsletter to receive updates.
 
If I can't come to the finals, will I be able to stream live online or watch live on TV?
In Singapore, the tennis tournaments can also be viewed on StarHub, the official broadcaster for the WTA Tour, on SuperSports 3 (Channel 203).
Can I deposit my luggage or bags at the venue?
No, bag deposits are not available
Does my child need a ticket?
Children below 3 years of age can enter Centre Court at Singapore Indoor Stadium for free, but will not be given an assigned seat.
Can I buy a ticket to watch a particular player?
Depending on the Road to Singapore qualifications and the draw schedule, the information will only be available on the day of the match. However, we are offering a special bundle pass 'All Singles Evening' that allows you to catch all 8 players regardless of the draw schedule.
Venue
Where is the tournament held?
The Singles and Doubles tournaments are held in Centre Court at the Singapore Indoor Stadium.
How should I plan for a day out at the BNP Paribas WTA Finals Singapore presented by SC Global?
* Dress code: Casual or Sporty. We advise against high heels as there quite a number of stairs within the Singapore Indoor Stadium.
* Timing: Doors open 1 hour before tournament starts. Check out Schedules & Draws 
We encourage visitors to follow us on Facebook or Twitter @WTAFinalsSG for updates on door opening timings in the event of delays.
* To maximize the event experience, we encourage visitors to visit the Fan Zone at OCBC Square and the Practice Courts at OCBC Arena.
What items are prohibited in the event premises?
The following restricted/prohibited items are not permitted into Singapore Indoor Stadium and OCBC Arena
* Weapons, or resemblance of weapons, including but not limited to knives, firearms, blunt offensive objects/batons and those with sharp ends
* Laser pointers
* Chairs/stools
* Outside food and beverage including alcohol
* Items too large to be electronically screened
* Helmets of any form
* Animals (other than trained assistance dogs)
* Projectile items including balls, frisbees, rackets or similar objects
* LED and fan boards larger than 42cm x 29.7cm (ie. A3 sized)
* Helium balloons or other inflatables
* Tripods, monopods and selfie sticks
* Other items as determined by SportsHub that may cause injury or public nuisance
* Glow/light sticks longer than 40cm
* Fireworks/flares
* Illegal substances including controlled, dangerous or illicit drugs
* Cans or spray cans
* Glassware or bottles
* Bags or luggage of dimensions larger than 35cm x 20cm x 30cm (ie. too large to be stored under a seat)
* Bicycles, skateboards, skates and scooters Musical instruments and noise makers including but not limited to drums, whistles, vuvuzelas, air horns and loud hailers without prior consent of Sports management
* Banners or flags larger than 1m x 2m
* Flag poles
How do I get there?
Via public transport
By MRT: Stadium MRT Station (CC6) is the nearest station which exits directly into the Fan Zone. 
By Bus: Bus Service 11 stops directly outside the Singapore Indoor Stadium (Bus Stop No. 80199)
By Taxi: Taxi stand at Stadium Crescent next to the Singapore Indoor Stadium (Location Code: I28)
By Car: From East Coast Parkway (ECP) and Marina Coastal Expressway (MCE), exit at Fort Road
Alterative routes: 
From Central Expressway (CTE) to Pan Island Expressway, exit at Sims Ave
From Kallang-Paya Lebar Expressway (KPE) heading to East Coast Parkway (ECP), exit at Sims Ave
For information on transportation, visit Maps.
What happens if it rains?
The BNP Paribas WTA Finals Singapore presented by SC Global is a Rain or Shine event. The Centre Court at Singapore Indoor Stadium and Practice Courts at OCBC Arena are located indoors and are sheltered from the elements.
Hospitality
What to expect of a WTA Finals Singapore hospitality experience?
For an elevated fan experience of the WTA Finals, be part of the Racquet Club.  Members of Racquet Club enjoy premium and exclusive privileges over this 10-day Festival. The club is intended to unite world-class WTA fans with our partners and athletes, through a unique host of offerings, opportunities and experiences, tailored to feed off the shared passion.
What is the Racquet Club about?
At the WTA Finals, Racquet Club provides absolute, utter exclusivity. This is where real connections and networking happen. Elevate your experience at the WTA Finals with a host of benefits which includes premium food and drink, exclusive meet and greet sessions with WTA players and legends, and more. At the Racquet Club, rub shoulders with the who's who of local, regional, and global tennis, from fellow fans to pundits, athletes and their associates, including Racquet Club ambassador Martina Navratilova

About Singapore
What is the weather like in Singapore in October?
In Singapore, we enjoy a pretty consistent summer all-year-round. Temperatures range from 26-33 degrees Celcius (with a chance of rain), pretty much every day. As long as you have a poncho or umbrella handy, light clothing and comfortable footwear, the weather should hardly be of consideration in your travel plans.
Where can I stay?
From glitzy luxury hotels to quirky budget accommodation, there's a bed somewhere in the city made just for you. Whether it's in a quiet heritage neighborhood or the bustling business district, Singapore's hotels are as diverse as the city itself. View a comprehensive list here.
What else can I experience in Singapore?
Here's a helpful list of activities by www.YourSingapore.com, the ultimate guide to Singapore by www.timeout.com/singapore, and a great list of must-eats by www.honeycombers.com.
Can we play tennis in Singapore?
Absolutely! Your hotel might already have a court. Alternatively, click here for a list of courts near you and their availability.
When can I expect to receive my WTA Tour Finals tickets?
Tickets are scheduled to begin being distributed from our office in Scottsdale around the middle of September.

Do you have any questions?
Send an email
. Or call. (800) 468-3664
local and international call
+1 (480) 429-7700

Since 1987, we have had just one mission, and that's to make it as easy as possible for thousands of fans each year to attend the most sought after tennis tournaments in the world. We handle only tennis and have deep experience and understanding of the tournaments we service. You can trust us to take care of all the details, with a level of customer service that will make you a loyal client for years to come.

Mike Bernstein
Championship Tennis Tours