WTA Tour Finals
Oct 21

–

Oct 28, 2018

|

Singapore, Singapore
View Photos
The BNP Paribas WTA (Women's Tennis Association) Finals Singapore presented by SC Global is the WTA's crown jewel event and takes place at the end of the year. This year, it will take place in Singapore from October 22-29. The Finals sees tennis' most exciting women's stars – the Top 8 Singles players and Top 8 Doubles teams – come to Singapore to contest in the season ending tournament for a record US$7 million in prize money. Championship Tennis Tours is proud to be an Appointed Ticket Agent for this WTA Tour Finals event.
More Details and FAQ's . . .
Singapore Sports Hub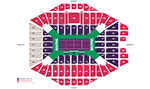 Seating Information
Provisional Schedule
Do you have any questions?
Send an email
. Or call. Arizona Office
local and international call
+1 (480) 429-7700
The Racquet Club level is the south sections within the Category A level.
The BNP Paribas WTA Finals Singapore presented by SC Global will be staged at the state-of-the-art SG$1.3 billion 
Singapore Sports Hub
. 
All competitive matches will be played at the iconic Singapore Indoor Stadium, a major facility within the all-new Singapore Sports Hub. The Fan Festival will be organized on the grounds of the 35 hectare Sports Hub, situated at the edge of the Kallang Basin, next to Singapore's city centre. The Sports Hub will feature a 55,000-seat National Stadium with a retractable roof; a 6,000-seat OCBC Aquatic Centre; an OCBC Arena capable of hosting indoor sports events with up to 3,000 seats in capacity; a Water Sports Centre; 41,000 sqm of commercial retail space; Community Sports Facilities such as basketball courts, beach volleyball courts, rock climbing wall, lawn bowls green, jogging and cycling sports promenade; and the existing Singapore Indoor Stadium..
When can I expect to receive my WTA Tour Finals tickets?
Tickets are scheduled to begin being distributed from our office in Scottsdale around the middle of September.

Do you have any questions?
Send an email
. Or call. Arizona Office
local and international call
+1 (480) 429-7700
Since 1987, we have had just one mission, and that's to make it as easy as possible for thousands of fans each year to attend the most sought after tennis tournaments in the world. We handle only tennis and have deep experience and understanding of the tournaments we service. You can trust us to take care of all the details, with a level of customer service that will make you a loyal client for years to come.
Mike Bernstein
Championship Tennis Tours