National Bank Open (ATP)
Aug 5 – Aug 11, 2024 | Montreal, Canada
iNote: Secure and trusted since 1987.
Prices may be above or below face value.
All tickets are 100% guaranteed authentic.
The National Bank Open, part of the US Open Series of tournaments, is the only tournament to change venues each year between Montreal and Toronto. Book all your tickets now for this world class event.
More Details and FAQ's. . .
Provisional Schedule
Do you have any questions?
Send an email
. Or call. (800) 468-3664
local and international call
+1 (480) 429-7700
Choose Your Ticket i
Price
Qty
Stadium View (Approximate View)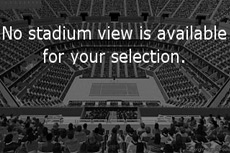 Stadium View (Approximate View)
Description
General tickets can be anywhere within the Promenade Level on Center Court. This ticket also gives you access to all the outside courts, and the Louis Armstrong and Grandstand show courts.

Sections:
Rogers Cup (Montreal) Seating Descriptions
ROGERS CUP MONTREAL FAQ's
Q. What is the Rogers Cup Montreal presented by National Bank?
Rogers Cup presented by National Bank is a prestigious professional tennis tournament organized by Tennis Canada. Since 1881 for the men and 1892 for the women, the best players in the world have showcased their skills on Canadian courts. Only Wimbledon and the US Open have longer histories than this major Canadian stop, which is acknowledged by the tennis world to be one of the best-run tournaments on the Tour. Classified as a Premier 5 event on the WTA calendar, Rogers Cup presented by National Bank offers over US $3 million in prize money and attracts the biggest stars in tennis year after year.
Montreal and Toronto share the task of hosting the best men's and women's players in the world, with both tournaments played at the same time, during the same week.
The impressive list of past champions for this Canadian stop on the professional tennis circuit includes such legendary names as Serena Williams, Martina Navratilova, Chris Evert, Monica Seles, and Steffi Graf.

Q. How many seats are in the Stade IGA Center Court?

STADE IGA's Centre Court holds 11,715 spectators while National Bank Court has a capacity of 4,296 fans.

Q. Where is the Stade IGA located?

285 Rue Gary-Carter, Montréal

Q. What is the National Bank Court?
National Bank Court is located on the west side of STADE IGA and is the site of many exciting matches throughout the week of the tournament. It is the second show court after Centre Court. Level 100 is occupied by ticket holders while Level 200 is reserved for spectators who have a ticket for Centre Court. Because the number of seats is limited in Level 200, seating works on a first come, first serve basis.

Q. When will my tickets be delivered?
Tickets are generally delivered one week before your first day of attendance. Actual delivery times vary from event to event depending on many factors including when tickets are physically allocated by the tournament.
Q. What if my tickets are lost or stolen?
When you receive your tickets, keep them in a safe place. Unfortunately, tickets cannot be replaced if they are lost, stolen, or damaged. Please note that direct sunlight or heat can damage some tickets. 
Q. Will the tickets I order be together?
Yes. All ticket order of two tickets will be together. For orders of 3 or more tickets we do our best to get all the tickets together, but it's not guaranteed. We will make sure to have at least all the tickets as pairs.
Q. When tickets are listed as a "General" ticket for a particular level, what does that mean?
When a ticket is listed as a "General" ticket, such as 100 Level - General, this simply means that your tickets are guaranteed to be located in a section within the 100 level. Even though it's listed as "General", all tickets are reserved. You will only know the actual seats (section, row, and seat number) once the tickets are delivered.

Q. What are some tennis etiquette' rules that fans must abide by while watching matches at the National Bank Open (ATP) presented by National Bank?
Please remain in your seat until the end of play and only leave your seat during a player changeover.
Please refrain from making noise during play.
Smoking is not permitted in the Stadium Court.
Turn cell phones to vibrate/silent mode.
Do not use flash photography from the stands.
Q. What session or day is the best to attend?
Every fan finds a different day or session to his or her liking. There are more matches earlier in the week and during matinee sessions. As the week progresses, the excitement builds as the field narrows and the remaining players fight to become the next National Bank Open (ATP)presented by National Bank Champion.
Q. Can I buy a ticket to watch a particular player?
The Rogers Cup presented by National Bank is an elimination tennis tournament, and as such the schedule of play is determined each evening for the following day. Therefore, it is not possible to purchase tickets in advance and guarantee a specific player will play in that session.
Q. When does the official draw come out?
The official draw is created the weekend prior to the start of the main draw.
Q. If I don't want to be looking into the sun, or would like to sit in the shade, where would be the best place to sit?
To have shade during the day session, it is best to sit in the top rows on the south and west sides of the stadium. At night, once the sun sets, it is best to sit on the west side of the stadium. STADE IGA is an outdoor stadium so remember to bring your sunscreen and a hat as temperatures can get very hot.
Q. What does my ticket entitle me to?
A ticket on Centre Court gives you a reserved seat on that court while a ticket for National Bank Court gives you access to that court only. In both cases, you have access to all of the other courts, including level 200 on the National Bank Court which has a certain number of seats for spectators. You will also be allowed to visit the retail promenade as well as enjoy the restaurants and activities on site.
Q. How many matches will I see with my ticket?
From Monday through Friday, there will be a minimum of three matches scheduled on Centre Court in the matinee session and a minimum of two matches scheduled in the evening session. Inclement weather and other factors beyond our control may alter this schedule. Both singles and doubles matches are included in most sessions.
Q. What time can I come to watch my session of tennis?
You may enter the site for your session according to the gate time printed on your ticket. Typically, the gates open one to two hours prior to the start of the first match. For example, the Thursday Matinee session gates open at 10:00 a.m. and the matches start at 11:00 a.m. while Thursday Evening session gates open at 5:30 p.m. and the matches start at 7:00 p.m.
Q. Can I bring a camera?
Cameras are allowed to be brought on site, no flash photography is allowed while play is in session. Tripods, monopods, camcorders, laptops and ipads are not allowed. If found at the gate, you will be asked to return these items to your vehicle before entry is permitted. We ask that photographs at Centre Court only be taken from your seat or behind the railing, and that it not interfere with any other guest's enjoyment of the match.
Q. What am I allowed to bring to the tournament?
Any bag, container or package will be checked prior to entering the grounds. All spectators entering the grounds will be subject to search.
Please leave any unnecessary items at home or in your vehicle.
Prohibited Items:
Bottles or Cans (Glass or Metal)
Non-Clear Plastic Bottles
Glass Containers
Alcohol
Aerosol Sunscreen Cans
Weapons
Bicycles
Rollerblades
Skateboards
Scooters
Animals (unless a service animal)
Noisemaking Devices
Laser Pointers
Selfie Sticks
Flag Poles
Tennis Racquets
Drones
Monopods
Tripods
Video Cameras or other Recording Devices
Unauthorized Advertising or Promotional Material
Any other objects deemed unsatisfactory by the management of Rogers Cup presented by National Bank are strictly prohibited on the grounds.
Allowed Items:
Clear Plastic Bottles
Food and water as long as it abides by the above prohibited items list
Small Personal Coolers
Cameras are allowed on site as long as the following two rules are followed:
No flash photography is allowed while play is in session.
The usage of the camera does not interfere with any other guest's enjoyment of the tennis.
Laptops, tablets and other handheld electronic devices are allowed on site, however their use within the confines (spectator area) of the tournament match courts is prohibited.
When can I expect to receive my National Bank Open (ATP) tickets?
Tickets are scheduled to begin being distributed from our office in Scottsdale around the end of July with tickets for the first week of the tournament being sent out first followed by second week orders. If you still haven't received your tickets within one week of your first day of attendance at the tournament, feel free to contact us. Otherwise, please rest assured that your ticket order is being processed normally. If this doesn't work with your travel plans, we can arrange to have your tickets shipped directly to your hotel anywhere in the Toronto area.


Do you have any questions?
Send an email
. Or call. (800) 468-3664
local and international call
+1 (480) 429-7700