National Bank (ATP) Montreal
Aug 8 – Aug 14, 2022 | Montreal, Canada
National Bank (ATP) Montreal Packages
Rogers Cup Packages Intro


Complete Packages Include
Complete Packages Include:
3, 4, or 5 star Montreal accommodations• i
Guaranteed Rogers Cup 100 or 200 Level tickets• More Details and FAQ's. . .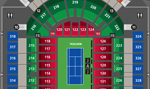 Uniprix Arena
Seating Information
Tour Code i
# of
People
Package Dates
Nights
Hotel Category
Rounds
Tickets Included
Seating Level i
Cost Per
Person i
Subtotal
8/7 - 8/10
3
Opening Rounds
Mon and Tue Day/Eve (4 sessions)
8/09 - 8/12
3
Middle Rounds
Wed and Thu Day/Eve (4 sessions)
8/12 - 8/15
3
Final Rounds
Fri, Sat, and Sun Day Sessions (3 sessions)
Holiday Inn Montreal

Travel Time to Tennis: Approximately 25 minutes via car or subway

Located in the heart of Montreal, our four-star renovated (2015) hotel features a modern and colorful design. Enjoy our 235 fabulous guestrooms, comfortable lobby adjacent to our bar and reknown Chez Chine restaurant serving Continental and Chinese cuisine alongside a large pond with coi fish, bridges and pagoda. Also, 16 meeting rooms, 10 with natural light and free high speed wireless internet.

Full Description and More Photos

Springhill Suites

Travel Time to Tennis: Approximately 25 minutes via car or subway

An unforgettable trip awaits you in Montreal, Canada and it starts at SpringHill Suites Old Montreal. Located In the heart of Montreal's Historic District, our hotel makes it easy to access various dining and shopping destinations. Also nearby are the shows of Opera de Montreal and the visually striking Bailique Notre-Dame de Montreal. After a day of sightseeing, retreat to our stylishly appointed suites boasting modern decor and memorable views of the city. You can get a maximum amount of rest with our pillow top mattresses dressed with cotton-rich linens and fluffy pillows. In the morning, fuel up for another adventure with our complimentary hot breakfast, or take a day off and slow down with the soothing treatments offered at Avie Spa & Coiffure, our hotel's on-site spa. Speed up with our fitness center and stay cool with the indoor pool. Ideal for wedding and event guests, our hotel provides convenient access to many popular venues. Experience a historic stay at SpringHill Suites Old Montreal.

Full Description and More Photos

Hotel Zero 1

Travel Time to Tennis: Approximately 20 minutes via car or subway

At the heart of Montréal's Quartier des Spectacles and located in an inspiring, modern and urban environment, ZERO 1 reinvents the concept of the downtown hotel with the casual chic design and comfort of its 163 rooms and suites. Each equipped with a mini kitchenette. Try our new restaurant, Z Tapas Lounge, a modern place, trendy and friendly that offers a nice variety of tapas, created by our chef Marielvi Falvino.

Full Description and More Photos

Novotel Montreal

Travel Time to Tennis: Approximately 25 minutes via car or subway

Stay 2 minutes' walk from the shops of Saint Catherine Street at the Novotel Montreal Centre hotel. For business trips or a vacation, this 4-star hotel boasts modern and comfortable rooms. After a visit to Old Montreal and the museums, enjoy the friendly atmosphere in the bar or sample the international cuisine in the restaurant. Eight meeting rooms are available to ensure the success of your event. Free basic WiFi. Discover the dynamic city of Montreal at Novotel.

Full Description and More Photos

Nelligan Montreal

Travel Time to Tennis: Approximately 25 minutes via car or subway

HÔTEL NELLIGAN A prime example of polished, urban living, Hôtel Nelligan gives guests everything they need for the perfect getaway. Luxurious amenities punctuate every corner while lavish rooms, suites and penthouses pair boutique comforts with classic stone walls dating back over a century. Concierge services are renowned and expertly attend to every step of your visit. Immerse yourself in Montreal's signature joie de vivre.

Full Description and More Photos

Omni Mont Royal

Travel Time to Tennis: Approximately 15 minutes via car or subway

A TIMELESS MONTREAL ESCAPE Chic shopping and modern comfort at the foot of Mount Royal Located downtown on the elegant Sherbrooke Street West near McGill University, the luxury Hotel Omni Mont-Royal dominates the Golden Square Mile's historical district. Sophisticated, luminous and inviting, this environment showcases an authentic and refined stay. With never more than 12 rooms per floor, the hospitality experience is enhanced by luxurious and comforting loft style guestrooms. Towering the Mount-Royal Park, our 31 story hotel offers magnificent city views and an abundance of natural light. Honoring Montreal's reputation for gastronomy, Chef Laurent Miot and his international brigade, treat guests on a daily basis to a variety of local flavors à la Montréal. Our French inspired Petit Opus Café and vibrant Alice Bar reflect the city's rich diversity. A well known address within the business community, the hotel is best known for its dedicated and experienced personnel.

Full Description and More Photos

Westin Montreal

Travel Time to Tennis: Approximately 20 minutes via car or subway

Inspire Your Senses at the Westin Hotel in Montreal. Located in Montreal's historic district near Basilique Notre-Dame de Montréal and the Palais des Congrès, Le Westin Montreal is an ideal place to take in the action at the Uniprix Arena. Our 455 guest rooms are a calming oasis within walking distance of restaurants, shops, and historic sites. Experience complete renewal with revitalizing amenities including a glass-bottom indoor pool, WestinWORKOUT gym and street-level restaurant that keeps you nourished with delicious SuperFoods

Full Description and More Photos

Bonaventure Hotel

Travel Time to Tennis: Approximately 20 minutes via car or subway

In the heart of downtown Montreal, The Hotel Bonaventure Montreal is a true urban oasis. Located over the top two floors of the Place Bonaventure, a 17-story commercial and business complex, the hotel combines the benefits of a working environment and a resort. An architectural gem in terms of judicious space planning, The Hotel Bonaventure Montreal offers first-class conference rooms for organising large and small meetings, exhibitions, conventions and weddings. Offering 397 spacious rooms including 5 luxurious suites, with stunning views of the gardens or the city. All rooms at the hotel have an ergonomic work area and free high-speed Internet access. Energise in the outdoor heated pool all year round surrounded by 2.5 acres of beautiful gardens or sample one of our chef's creations at the Kube Restaurant; Every opportunity is good to enjoy the services offered. The Hotel Bonaventure Montreal is a true Garden of Eden overlooking the bustling streets of the city. Connected to the underground city, Central Station and the business district, Old Montreal, and major attractions, this hotel is the perfect place for your next stay in Montreal.

Full Description and More Photos

InterContinental

Travel Time to Tennis: Approximately 20 minutes via car or subway

Experience Montreal, new and old, within walking distance from the comfort of your room. The InterContinental Montreal is ideally located close to the Uniprix Arena at the gateway of downtown and Old-Montreal, twenty minutes from Pierre-Elliott-Trudeau International Airport. This luxury hotel is connected to the underground city and close to two subway stations, which will allow you to discover many of the city's points of interest.

Full Description and More Photos

Sofitel Montreal

Travel Time to Tennis: Approximately 20 minutes via car or subway

Sofitel Montreal Golden Mile is conveniently located in the heart of the city ideal for business travelers and art lovers - at the foot of lush Mount Royal Park, next to the renowned McGill University and Montreal Museum of Fine Arts Enjoy the masterful blend of minimalist design and warm sophistication at our luxury hotel embellished with Victorian accents from the estate of North American railroad pioneer William Cornelius Van Horne. Choose one of 241 elegant and stylish hotel rooms or 17 suites all featuring Sofitel's luxurious feathertop and duvet sleep system - SoBed.

Full Description and More Photos

Le Crystal Hotel

Travel Time to Tennis: Approximately 25 minutes via car or subway

ENJOY THE CRYSTAL EXPERIENCE AT OUR MONTRÉAL HOTEL You'll enjoy personalized service and staff members who are experts at anticipating your needs without intruding on your privacy. During your stay, be sure to make time for the indoor saltwater pool, outdoor hot tub and Swedish sauna on our 12th floor rooftop. Take in panoramic views of the Montréal skyline from our Amerispa and fitness facilities. Reward yourself with a meal and a drink at Bistro laurentien La Coupole, an innovative cuisine using products from local artisans from all Québec regions between the Laurentian mixed forest and the south of Québec. Discover our 2ndfloor terrace and try one of the three different sections of our Bar & Lounge. And return each evening to your spacious suite, featuring high-end amenities for a truly unique experience.

Full Description and More Photos
[+] Add Option(s) to Your Package
No information here yet.
Montreal Hotels


Official National Bank (ATP) Montreal Courtside Tickets.

Your tickets allow you to attend matches on all the side courts.


ROGERS CUP MONTREAL FAQ's
Q. What is the Rogers Cup Montreal presented by National Bank?
Rogers Cup presented by National Bank is a prestigious professional tennis tournament organized by Tennis Canada. Since 1881 for the men and 1892 for the women, the best players in the world have showcased their skills on Canadian courts. Only Wimbledon and the US Open have longer histories than this major Canadian stop, which is acknowledged by the tennis world to be one of the best-run tournaments on the Tour. Classified as a Premier 5 event on the WTA calendar, Rogers Cup presented by National Bank offers over US $3 million in prize money and attracts the biggest stars in tennis year after year.
Montreal and Toronto share the task of hosting the best men's and women's players in the world, with both tournaments played at the same time, during the same week.
The impressive list of past champions for this Canadian stop on the professional tennis circuit includes such legendary names as Serena Williams, Martina Navratilova, Chris Evert, Monica Seles, and Steffi Graf.

Q. How many seats are in the Stade IGA Center Court?

STADE IGA's Centre Court holds 11,715 spectators while National Bank Court has a capacity of 4,296 fans.

Q. Where is the Stade IGA located?

285 Rue Gary-Carter, Montréal

Q. What is the National Bank Court?
National Bank Court is located on the west side of STADE IGA and is the site of many exciting matches throughout the week of the tournament. It is the second show court after Centre Court. Level 100 is occupied by ticket holders while Level 200 is reserved for spectators who have a ticket for Centre Court. Because the number of seats is limited in Level 200, seating works on a first come, first serve basis.

Q. When will my tickets be delivered?
Tickets are generally delivered one week before your first day of attendance. Actual delivery times vary from event to event depending on many factors including when tickets are physically allocated by the tournament.
Q. What if my tickets are lost or stolen?
When you receive your tickets, keep them in a safe place. Unfortunately, tickets cannot be replaced if they are lost, stolen, or damaged. Please note that direct sunlight or heat can damage some tickets. 
Q. Will the tickets I order be together?
Yes. All ticket order of two tickets will be together. For orders of 3 or more tickets we do our best to get all the tickets together, but it's not guaranteed. We will make sure to have at least all the tickets as pairs.
Q. When tickets are listed as a "General" ticket for a particular level, what does that mean?
When a ticket is listed as a "General" ticket, such as 100 Level - General, this simply means that your tickets are guaranteed to be located in a section within the 100 level. Even though it's listed as "General", all tickets are reserved. You will only know the actual seats (section, row, and seat number) once the tickets are delivered.

Q. What are some tennis etiquette' rules that fans must abide by while watching matches at the National Bank (ATP) Montreal presented by National Bank?
Please remain in your seat until the end of play and only leave your seat during a player changeover.
Please refrain from making noise during play.
Smoking is not permitted in the Stadium Court.
Turn cell phones to vibrate/silent mode.
Do not use flash photography from the stands.
Q. What session or day is the best to attend?
Every fan finds a different day or session to his or her liking. There are more matches earlier in the week and during matinee sessions. As the week progresses, the excitement builds as the field narrows and the remaining players fight to become the next National Bank (ATP) Montrealpresented by National Bank Champion.
Q. Can I buy a ticket to watch a particular player?
The Rogers Cup presented by National Bank is an elimination tennis tournament, and as such the schedule of play is determined each evening for the following day. Therefore, it is not possible to purchase tickets in advance and guarantee a specific player will play in that session.
Q. When does the official draw come out?
The official draw is created the weekend prior to the start of the main draw.
Q. If I don't want to be looking into the sun, or would like to sit in the shade, where would be the best place to sit?
To have shade during the day session, it is best to sit in the top rows on the south and west sides of the stadium. At night, once the sun sets, it is best to sit on the west side of the stadium. STADE IGA is an outdoor stadium so remember to bring your sunscreen and a hat as temperatures can get very hot.
Q. What does my ticket entitle me to?
A ticket on Centre Court gives you a reserved seat on that court while a ticket for National Bank Court gives you access to that court only. In both cases, you have access to all of the other courts, including level 200 on the National Bank Court which has a certain number of seats for spectators. You will also be allowed to visit the retail promenade as well as enjoy the restaurants and activities on site.
Q. How many matches will I see with my ticket?
From Monday through Friday, there will be a minimum of three matches scheduled on Centre Court in the matinee session and a minimum of two matches scheduled in the evening session. Inclement weather and other factors beyond our control may alter this schedule. Both singles and doubles matches are included in most sessions.
Q. What time can I come to watch my session of tennis?
You may enter the site for your session according to the gate time printed on your ticket. Typically, the gates open one to two hours prior to the start of the first match. For example, the Thursday Matinee session gates open at 10:00 a.m. and the matches start at 11:00 a.m. while Thursday Evening session gates open at 5:30 p.m. and the matches start at 7:00 p.m.
Q. Can I bring a camera?
Cameras are allowed to be brought on site, no flash photography is allowed while play is in session. Tripods, monopods, camcorders, laptops and ipads are not allowed. If found at the gate, you will be asked to return these items to your vehicle before entry is permitted. We ask that photographs at Centre Court only be taken from your seat or behind the railing, and that it not interfere with any other guest's enjoyment of the match.
Q. What am I allowed to bring to the tournament?
Any bag, container or package will be checked prior to entering the grounds. All spectators entering the grounds will be subject to search.
Please leave any unnecessary items at home or in your vehicle.
Prohibited Items:
Bottles or Cans (Glass or Metal)
Non-Clear Plastic Bottles
Glass Containers
Alcohol
Aerosol Sunscreen Cans
Weapons
Bicycles
Rollerblades
Skateboards
Scooters
Animals (unless a service animal)
Noisemaking Devices
Laser Pointers
Selfie Sticks
Flag Poles
Tennis Racquets
Drones
Monopods
Tripods
Video Cameras or other Recording Devices
Unauthorized Advertising or Promotional Material
Any other objects deemed unsatisfactory by the management of Rogers Cup presented by National Bank are strictly prohibited on the grounds.
Allowed Items:
Clear Plastic Bottles
Food and water as long as it abides by the above prohibited items list
Small Personal Coolers
Cameras are allowed on site as long as the following two rules are followed:
No flash photography is allowed while play is in session.
The usage of the camera does not interfere with any other guest's enjoyment of the tennis.
Laptops, tablets and other handheld electronic devices are allowed on site, however their use within the confines (spectator area) of the tournament match courts is prohibited.
Official Roger Cup Tickets in your choice of seating level
3, 4, or 5 star Montreal accommodations
Your National Bank (ATP) Montreal package contents are delivered by FedEx a few weeks before your first day of attendance at the tournament.

Do you have any questions?
Send an email
. Or call. (800) 468-3664
local and international call
+1 (480) 429-7700

Since 1987, we have had just one mission, and that's to make it as easy as possible for thousands of fans each year to attend the most sought after tennis tournaments in the world. We handle only tennis and have deep experience and understanding of the tournaments we service. You can trust us to take care of all the details, with a level of customer service that will make you a loyal client for years to come.

Mike Bernstein
Championship Tennis Tours