Swiss Indoors Basel
Oct 21

–

Oct 27, 2019

|

Basel, Switzerland
Swiss Indoors Basel Packages
Switzerland's largest sporting event and one of the most important indoor tournaments in the world, the Swiss Indoors takes place in Basel at the magnificent St. Jakobshalle. Roger Federer, who once served as a ball boy at the Swiss Indoors Basel, fittingly became the first player to win six titles at his hometown tournament in 2014. Switzerland's leading sport event boasts an impressive list of former champions, including tennis Hall of Famers Bjorn Borg, Ivan Lendl, John McEnroe, Boris Becker, Stefan Edberg and Pete Sampras.  Championship Tennis Tours offers great individual tickets and packages to this event.


Complete Packages Include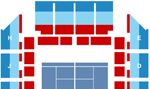 St. Jacobshalle
Seating Information
Tour Code i
# of
People
Package Dates
Nights
Hotel
Rounds
Tickets Included
Seating Level i
Cost Per
Person i
Subtotal
10/20 - 10/24

4

Opening Rounds
Mon, Tue, Wed (3 tickets)
10/24 - 10/28

4

Final Rounds
Fri, Sat, Sun ( 3 tickets)
Novotel

Modern Design

Set 1.9 km from Basel Zoo, this modern hotel is a 15-minute walk from Kuntsmuseum Basel and 8 km from the Vitra Design Museum. Stylish and bright rooms feature flat-screen TVs with satellite channels, Wi-Fi and desks, along with minibars, and tea and coffee making facilities. Room service is available. There's a sleek 24-hour bar. Amenities include a fitness center and meeting space.

Full Description and More Photos

Hotel Nomad

Cozy

This modern, downtown hotel is a 2-minute walk from the nearest tram stop, a 5-minute stroll from Theater Basel and 1.9 km from Museum Tinguely. The urban chic rooms feature free Wi-Fi, flat-screen TVs, desks and bathrooms with designer toiletries, plus city or courtyard views. Upgraded rooms add minifridges. The lone suite adds a living area with a pull-out sofa. Freebies include fruits and the use of bikes, the sauna and the fitness room. There's a contemporary restaurant/bar serving international cuisine.

Full Description and More Photos

Ibis Styles

Contemporary

The hotel is in a modern building is a 12-minute walk from the Basel SBB train station and 16 minutes' walk from artwork at Kunstmuseum Basel. The contemporary, colorful rooms come with free Wi-Fi and flat-screen TVs. A breakfast buffet is available in a vibrant dining area. There's also a relaxed lobby bar.

Full Description and More Photos

Hotel - D

Modern Design

Adjacent a tram and bus stop, this city center hotel is also a 10-minute walk from the 9th-century Basel Minster church and a 13-minute walk from Kunsthalle Basel museum. The modern rooms and suites come with free Wi-Fi, flat-screen TVs, iPod docks, desks and minibars, as well as designer toiletries. Upgraded rooms add pull-out sofas, while suites feature panoramic-view terraces. Freebies include a breakfast buffet and parking. There's also an informal dining area. Other amenities include a contemporary lounge, a gym, a spa and a business center.

Full Description and More Photos

Steinenschanze Stadthotel

Contemporary

Set on a bustling downtown street, this casual, modern hotel in an unassuming building is a 13-minute walk from both Zoo Basel and Bahnhof Basel SBB train station. Bright, streamlined rooms offer free Wi-Fi and flat-screen TVs. Upgraded rooms add Nespresso machines, courtyard views and/or terraces, while suites feature living rooms. Free perks include a breakfast buffet, a welcome drink, and tickets for public transport. There's a funky lounge serving snacks and drinks, as well as a library and a leafy courtyard.

Full Description and More Photos

Hotel Basel

Modern Design

Hotel Basel is a modern city hotel, which is located right in the center of Basel, in the city's pedestrian zone. Situated in a beautiful area, among historic buildings, Hotel Basel is just a few steps away from Basel's main square and other major tourist sights. The hotel has an outstanding brasserie with a charming terrace that can be used during the summer months. It also has a perfect location for those who are visiting on business, exploring the city's cultural side or spending a day in the city's main shopping areas.

Full Description and More Photos

The Passage Hotel

Contemporary

A 4-minute walk from a tram stop, this contemporary hotel with a modernist facade is 6 minutes by foot from Theater Basel and 10 minutes from the Old Masters in Kunstmuseum Basel. Bright, modern rooms with art-inspired accents feature flat-screen TVs, Nespresso machines and iPod docks, plus desks and free Wi-Fi. Suites add seating areas with pull-out sofas, while chic loft apartments offer kitchens. Room service is available. Amenities include a sleek bar with a terrace, which serves drinks and snacks, plus a fitness room with a sauna.

Full Description and More Photos

Les Trois Rois

Traditional Elegance

Set on the banks of the Rhine, this upscale hotel dating from 1681 is a 9-minute walk from Basel Minster and 1.6 km from Basel train station. Refined rooms are individually decorated with plush fabrics, classic art and antique furniture; some feature art deco touches. All come with free Wi-Fi, flat-screen TVs and minibars. Suites add balconies, and sitting areas or living rooms. Upgraded suites have features such as gold-plating, a rooftop hot tub or a fireplace. Dining/drinking options include an acclaimed fine-dining restaurant, a river-view bistro, a chandelier-lit, wood-paneled bar and a cigar lounge. There's also a fitness room.

Full Description and More Photos

Teufelhof Basel

Classic

NEIGHBORHOOD:

A minute's walk from a tram stop, this offbeat art-themed hotel set in a pair of 18th-century townhouses is 6 minutes' walk from Kunsthalle Basel art gallery and 7 minutes' walk from the Theater Basel. Modern, airy rooms with wood floors feature designer desks and furnishings, free Wi-Fi, flat-screen TVs and Nespresso machines. Upgraded rooms add quirky, art-inspired decor, while 1-bedroom suites offer separate living rooms. There's stair-access only. A breakfast buffet and a public transport pass are free. There's also a refined restaurant and a chic bistro with floor-to-ceiling windows, as well as a laid-back cafe/bar and a wine shop.

Full Description and More Photos

Hotel Spalentor

Boutique

NEIGHBORHOOD: Old Town

Hotel Spalentor is a comfortable 4-star accommodation featuring 40 rooms to stay in. Hotel Spalentor was opened in 2002 and offers soundproof rooms. This hotel is situated 1.8 km away from Basel Paper Mill Museum. The property is in a 10-minute walk to Basel city center. Rooms at Hotel Spalentor feature modern touches such as free Wi-Fi, a private balcony, a personal computer, a wardrobe and a sofa. Guests will enjoy a hairdryer, free toiletries and bathrobes provided in the bathrooms. Charon and Zur Harmonie serve a selection of meals within 100 meters from the venue. 20 minutes' walk to Basel SBB train station. There is Zurich-Kloten airport at a 75 km distance. The hotel offers bicycles for rent to explore the local sites. Babysitting, a play area and a game room are available for children. Active guests will appreciate mountain biking, lawn tennis and squash provided on site.

Full Description and More Photos
[+] Add Option(s) to Your Package
No information here yet.
Basel Hotels
Visitors to Basel, Switzerland's second largest city,  which sits on the Rhine river, will discover a city known for it's rich history and concentration of cultural attractions. Many of the museums are housed in buildings that are themselves works of art, designed by great architects that include Renzo Piano, Frank O. Gehry, and Mario Botta.   Championship Tennis Tours has hand picked the top hotels throughout this great city, all within close proximity to the tournament at the St. Jakobshalle venue.

Excellent Center Court Tickets for the Swiss Indoors Basel.

Your tickets on Center Court give you access to all the side courts as well.


Swiss Indoors FAQ's
Q. What is the Swiss Indoors?

Switzerland's largest sporting event and one of the most important men's ATP indoor tournaments in the world, the Swiss Indoors traditionally takes place in Basel and always forms part of the end-of-season run-up to the World Finals. The magnificent St. Jakobshalle is the setting for this annual gathering of the elite of the tennis world.

Q. Do Children need a ticket?
For reasons of fire safety among other things, entry to the stadium can only be granted upon production of a valid ticket. A ticket is also required for small children – they may not sit in your lap. The event is not suitable for children under 6 years old.

Q. When will my tickets be delivered?
Tickets are generally delivered one week before your first day of attendance. Actual delivery times vary from event to event depending on many factors including when tickets are physically allocated by the tournament.
Q. What if my tickets are lost or stolen?
When you receive your tickets, keep them in a safe place. Unfortunately, tickets cannot be replaced if they are lost, stolen, or damaged. Please note that direct sunlight or heat can damage some tickets. 

Q. Will the tickets I order be together?
Yes. All ticket order of two tickets will be together. For orders of 3 or more tickets we do our best to get all the tickets together, but it's not guaranteed. We will make sure to have at least all the tickets as pairs.
Q. When tickets are listed as a "General" ticket for a particular level, what does that mean?
When a ticket is listed as a "General" ticket, such as "CAT 1 - General" this simply means that your tickets are guaranteed to be located in a section within the CAT 1 level. Even though it's listed as "General", all tickets are reserved. You will only know the actual seats (section, row, and seat number) once the tickets are delivered.
Q. What is the address of the event?
St. Jakobshalle
Brüglingerstr. 19-21, 4052 Basel

Q. TRAVELING TO THE SWISS INDOORS BASEL BY PUBLIC TRANSPORT?
From Basel SBB (main station) / Bâle SNCF: Tram No. 8, 10 or 11 till Aeschenplatz, change line on Tram No. 14 till stop St. Jakob.
From Basel Badischer Bahnhof: Bus No. 36 without changing till stop St. Jakob.  
Information public transport
During the Swiss Indoors Basel, our guests benefit from the following special offer:
 - Limousine Service from Chauffeur Drive: Our chauffeurs drive you comfortably to the event.     Benefit from a 20% reduction on  the vehicles with drivers. For more information please call +41 (0)44 804 10 50
3, 4, or 5 star accommodations in Basel
Official tournament tickets to the Swiss Indoors
Your Swiss Indoors Basel Package contents including your tennis tickets are delivered to you by FedEx a few weeks before your package begins.

Do you have any questions?
Send an email
. Or call. (800) 468-3664
local and international call
+1 (480) 429-7700
Since 1987, we have had just one mission, and that's to make it as easy as possible for thousands of fans each year to attend the most sought after tennis tournaments in the world. We handle only tennis and have deep experience and understanding of the tournaments we service. You can trust us to take care of all the details, with a level of customer service that will make you a loyal client for years to come.
Mike Bernstein
Championship Tennis Tours